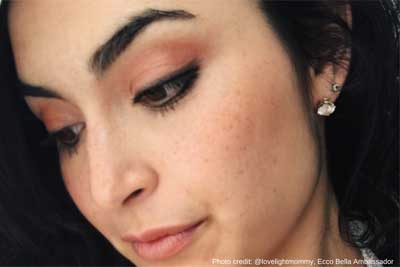 Trying to keep up with the latest trends in makeup and beauty? Between runways, red carpets, and magazine layouts, there's a lot to keep track of. We did the leg work for you and here are the trends you want to know: Toned-down looks are making their mark. That's right: lighter, softer, more natural styles are the way to go. Here are a few of our favorites we've collected for you.
Softer Smoky Eye
Don't worry, your smoky eye isn't going anywhere. It's just getting a toned-down makeover. Swap out a darker-hued base of black or charcoal with something softer like Bronze, Deep Taupe, or Earth. Use your favorite eyeliner or eyeshadow to fill your lids from lash to crease with color. Reach for your trusty cotton swab and smudge the color into your lashes to soften the look. Use the bit left behind on the swab to smudge some color along your lower lash line, too.   
Barely There
It's time to celebrate your natural beauty! The minimalist makeup look is one of today's hottest trends. Start with a lightweight, full-coverage foundation such as Our FlowerColor Foundation. It's made for the task! It is water-based, lightweight, and natural-looking, but with excellent coverage. A soft sweep of eyeshadow in a shade like Fawn or Camel will give your lids a hint of highlight and light color. To make your eyes pop, coat your lashes with FlowerColor Natural Mascara.  Finish off your natural look with a gentle kiss of lip color from one of EB's Vitamin E Lip Smoothers in Go Bare or Petal.
Pretty in Peach
Peach is taking its turn in the spotlight with an updated, yet simple, monochromatic look. We suggest using a flush of Peach Rose blush across your cheeks and eyes to get started. Finish off the look with a complementary lip color such as FlowerColor Lipstick in Peach Frost.  
Va-Va-Voom Lips!
If there's one thing you can bet on, it's that stellar classics like EB's REDvelation, Primrose, and Claret Rose lipsticks will always be in style. That's right: bold, beautiful, red lips are on point, especially when paired with a minimalist approach to your eye makeup like the Beach Glam look featured on our website.
No matter what's on your agenda—the beach, the office, a night on the town—you can't go wrong with one of these looks. Pick a favorite to try and take a picture to share. Just don't forget to tag us on Instagram @eccobellabeauty and use the hashtag #EBTonedDownTrends.