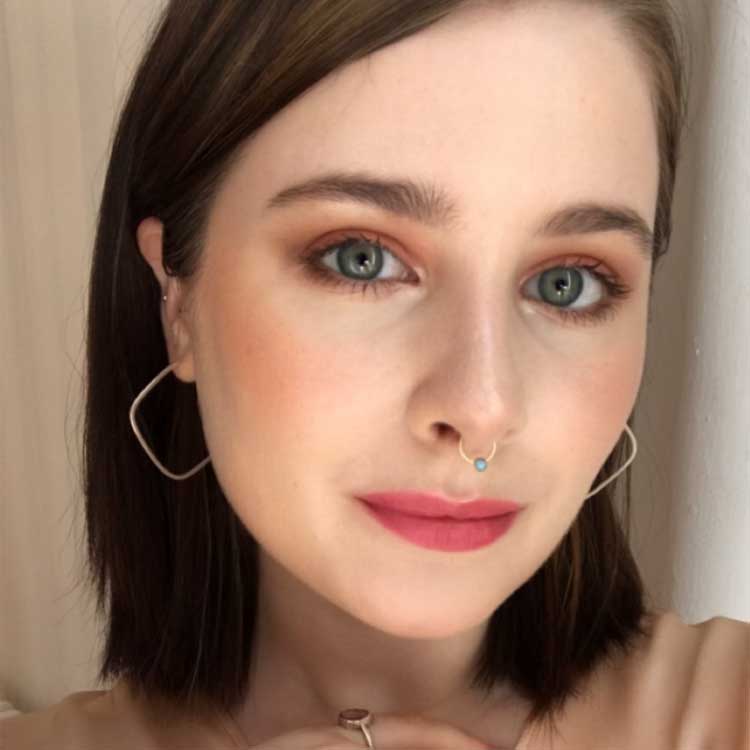 MONOCHROMATIC ROSE.
GET THE LOOK.
"I remember when I picked up my first Ecco Bella blush from a natural grocery store in college. It was the beginning of a love story …
My name is Lexi, and I am a cruelty free and vegan makeup blogger/You-tuber. When I first became vegan, the world of makeup that I used to love seemed so dim and daunting. I felt like I'd never find cruelty free and vegan alternatives for the products I had grown to depend on. But over time I've found some new favorites. There is simply no reason to continue buying makeup from cruel companies when incredible brands like Ecco Bella exist. Follow me on Instagram @verycoolgirllex for more vegan and cruelty free beauty finds!
This Monochromatic Rose look is easy to create and utilizes products in unique ways. It makes me feel put together with a pop of color—perfect for daytime or going out!" -@verycoolgirllex
With a powder brush, apply the Flower Color Bronzing Powder in Hibiscus to the high points of the face, starting with a light application and building.
Next, using a smaller fluffy brush, apply the Flower Color Blush in Peach Rose to the apples of the cheeks.
For the eyes, blend the Hibiscus Bronzing Powder into the crease with a fluffy brush. Then, with a slightly flatter brush, pack the Peach Rose Blush onto the eyelid. Blend to be sure there are no harsh edges.
With a smaller blending brush, add small amounts of the Flower Color Eyeshadow in Earth to the outside corners of the eyelids and the upper and lower lash lines to create depth and dimension.
Apply the Flower Color Natural Mascara in Brown to the lashes.
Finally, apply the Flower Color Lipstick in Pink Rose to the lips and layer the Good For You Gloss in Power on top for a pop of color.
Beauty tip: Use blush and bronzers as eyeshadows to create cohesive and quick looks that are still glamorous!