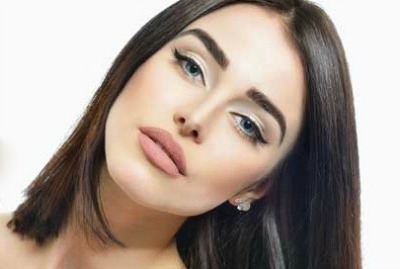 4 Amazing Looks. One Pencil.
Sure, you've got a signature look: A certain color pallet for your makeup; a standard way you brush on your eye shadow; a go-to lipstick. But sometimes you want to shake things up and try something new. You deserve that flexibility without needing to supplement your stash of products every time the whim hits you.
Grab your favorite Ecco Bella soft eyeliner pencil and we'll show you four smoking hot looks you can create with just eyeliner on the fly.
Walk the Line
Apply eyeliner to your upper and lower waterlines. Don't fret about perfection. Use a cotton swab to blur hard lines. The key to making this retro classic work is to get the color near the roots of your lashes. For real drama, try this look with a Velvet pencil.
You are Smokin'
What if we told you that you could create the perfect smoky eye with just one product? Buckle up, Sweetheart, because it's true! Use your favorite eyeliner to fill your lids from lash to crease with color. Don't treat the outer corner of your eye as a line of demarcation. It's ok to introduce color just past the natural edge. Using your trusty cotton swab, smudge the color into your lashes to soften the look. Don't toss the swab just yet. See the bit of color left behind on it? Run it along your lower lash line. For a fresh new take on the smoky eye, try this look in Bronze !
The Cat's Meow
The smooth, glide of an EB eyeliner is perfect for creating a sultry cat eye. Start applying color at the inner corner of your upper lid and work your way to the outside edge. The line should grow thicker as it goes from inside to out and extends just behind the natural edge of your eye with a flirty, slight sweep up. You don't want to smudge this line, but you can use a cotton swab to tidy up any blurred lines or uneven edges. For a little extra flare: After you've perfected your upper lids, apply a thin line from the outer edge to about the halfway point of your lower lash.
Rock it out
You are a rock star and you deserve a look that says so! Start with a thin line along both your upper and lower lashes. Using a cotton swab, smudge the line along your bottom lashes. Remember, you're going for the "slept-in-my make-up-because-I-was-out-making-music-all-night look." Experiment with different colored liners. Velvet will give you a classic smoky rock look, while Royal Blue will electrify things a bit.
Finishing touch: No eye is complete without a sweep of mascara to frame your gorgeous peepers. Our FlowerColor Mascara is the perfect, flirtatious finish to any of the lone-liner looks outlined above.
Go ahead and experiment, just don't forget to share it with us on Instagram. Use the hashtag #EB1Pencil! Be sure to tag us @eccobellabeauty.