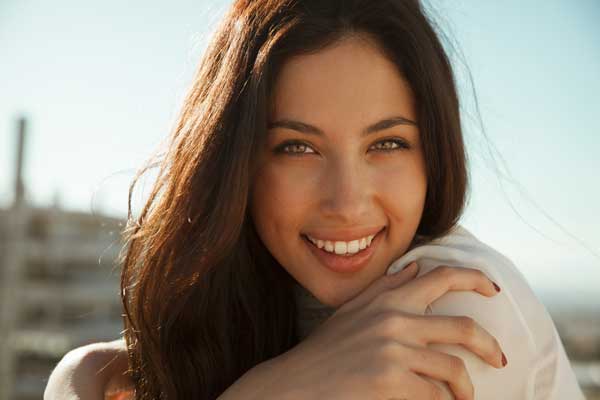 4 Crazy, Sexy Beauty Tips You Need Now!
Beauty is in an inside job. Our natural beauty experts have 4 tips to help you tap into your sexiest self ever.
Tip 1 There is nothing more beautiful than a confident woman.
Forget the media images of the perfect body, the perfect hair, the perfect smile. None of it is real. There is no perfect anything. Hold your head up and know that you are beautiful! Sophia Loren once said, "Beauty is how you feel inside, and it reflects in your eyes. It is not something physical." We think Sophia knows a thing or two about being beautiful. Take her word for it. Get comfy in your own skin and own it.
Tip 2 Smile. In fact, smile a lot.
Whether you slip on some REDvelation FlowerColor lipstick or not, your smile draws positive attention. There's even research that supports this. Studies show that smiling faces are rated more attractive than their surly or passive counterparts. Don't hold back. Flash that genuine, from-lips-to-eyes smile when you're feeling it. Be generous, but sincere, with your grins. Think of it as an instant (and free!) face lift.
Tip 3 Beauty is personal, comfortable, and unique.
When you feel comfortable – in your outfit, in your shoes, in your skin – you broadcast beauty. If you think your best look requires one of those foundation pieces that squeeze any loose jiggly bits in, think again. There's nothing pretty about a gal that looks like she's afraid to exhale. Nor will you find beauty in an outfit that doesn't radiate your personality and style. Beauty comes from being authentically you. Celebrate your own personal style. We bet the more you look like you, the more you will smile and the more confident you'll feel. It's all connected.
Tip 4 Be compassionate.
Some of the most bodacious women we know are teeming with compassion for their fellow humans, for animals, and for the planet. Real beauties use cruelty-free, natural, organic products that don't harm the earth or creatures living on it.
Bonus
Highlight your confident, unique good looks with make-up that draws attention to the features you want to highlight. Schedule a free consult with our natural beauty gurus and we'll help you identify the right products and colors to achieve the look you're going for.
Now go forth and be confident of your radiant, sultry self! Snap a picture and share it with us on Instagram. Use the hashtag #EBNaturalBeauty! Be sure to tag us @eccobellabeauty.