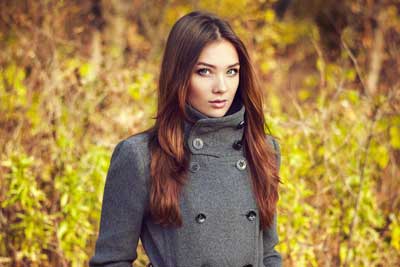 Cool crisp air. Pumpkin spice everything. Apple cinnamon smells wafting everywhere you go. The crunch of colored leaves under your feet. Are you feeling giddy over fall yet? We are and that's why we're ready to help you amp up your autumn look by putting fall makeup trends to work! We've pulled together a list of some of the hottest seasonal looks and put our own natural, cruelty-free spin on them. Grab your stash of FlowerColor makeup and your fluffy brushes. It's time to give them a workout as you try these looks on for size:
Sunset Eyes
The warm, rich hues of twilight are the perfect autumn eye inspiration. We're talking about rich reds, berries, oranges and copper. Starting with the lighter peachy hues near your brow line and working down to deep red and berry shades, recreate one of nature's most beautiful canvases right on your lids. Use FlowerColor Blush in Peach Rose, Earthy Rose and/or Wild Rose. We don't use FC&D dyes so our blush is safe to use on your eyes. FlowerColor Eyeshadow in Camel is a great choice too. Of course, no sun-inspired look would be complete without a touch of Sun Shimmer Dust. Tuck that sparkle just under the brow line or smudge just a touch at the inner corner of each eye.
Multi-Textured Eyes
Play up the drama around your eyes with shadows and light. Use FlowerColor Powdered Eyeliner in Brown or Eggplant for a classic smoky look. To jazz things up a bit more, grab a Bronze Soft Eyeliner Pencil. Dull the point on the back of your hand and color your lid up to the crease line. Smudge some Bronze pencil just under your eye as well. Then apply Seal Soft Eyeliner Pencil on your lid along the lash line. You're not done yet! To add your multi-texture twist, reach for your Shimmer Dust again and apply a touch of glittery goodness on the inner corner of each eye. Keep your eyes the focal point for this look. Rely on our Vitamin E Lip Smoothers to give your lips a hint of color without going too bold.
One Tool to Rule Them All
You're a busy woman. Having a quick, easy-breezy trick to trim your make-up ritual down to a couple of easy steps would be fabulous, right? Even better if you could save some bucks while pulling it off. That's where a multitasking lippie comes in. Rosewood FlowerColor lipstick is the perfect shade for lips, cheeks, and eyes. Trust us on this one. After you kiss your lips with that sweet shade, sweep your index finger across the lipstick to pick up a generous amount of color on the fingertip. Rub your index finger and thumb together to warm things up slightly. Now smile at your pretty face in the mirror to find the apples of your cheeks. With a gentle tap along the upper half of those gorgeous cheek bones, apply the color.
Almost there! Use a cotton swab or angled brush to apply the lipstick as an eye liner. Go even bolder and try it using the swab or brush to sweep the color over your lid and blend it in with your finger as a one-of-a-kind eyeshadow! You can use a little face powder to help the color set.
Vampy Lips
Autumn was made for dark-hued lips. Merlot FlowerColor lipstick topped off with Power Good for You Gloss is the perfect, dramatic color combo for this trend. Just remember, your lips are the powerbroker here. Go soft and natural with your eyes using eyeshadow hues like Fawn, Heather and Clay to give your eyes a little attention without competing for top billing.
Cold Weather Cheeks
Close your eyes and imagine the way the cold morning air nips at your face. You know that rosy pink cheek Jack Frost leaves behind? You can recreate that with makeup and be right on point with the season's trends. Wild Rose FlowerColor Blush is a good one for this look. Use your favorite, big, fluffy brush to sweep the color right where the cold wind hits you. Sweet!
Sweet, Subtle Mauve
If you're not quite ready to commit to deep fall hues, but you still want a little more drama than your summer style, try the happy medium of mauve. It's soft, flattering hues hit that sweet spot between summer's low-key style and autumn's boldness. Napa Grape FlowerColor Lipstick is just right for your lips. For your cheeks try layering FlowerColor Blush in Orchid and Purity for just the right soft, sexy twist on the "mauvelous" trend. Keep your eyes low key with soft natural hues, or play them up with the same mauve colors.
Ok, Gorgeous, pick your favorite autumn trend and give it a try. Just don't forget to share it with us. Snap a selfie and share it with us on Instagram. Use the hashtag #EBAutumn! Be sure to tag us @eccobellabeauty.