A Benefits and Risks Breakdown of Natural Sweeteners
Finding a healthy balance between sweet and healthy foods in your diet can be tricky. We live in a world full of food products that sneak in "refined sugars" at seemingly every turn.
Highly processed sugars that make certain foods so appealing are also responsible for wreaking havoc on our blood sugar, waistline, and immune system over time. From cavities and obesity to the development of diabetes, excessive consumption of refined sugar comes with some serious risks.
In this article, we'll explore the benefits and risks of two natural sweeteners: Stevia and monk fruit, both are used in our NutraChic Beauty Drink.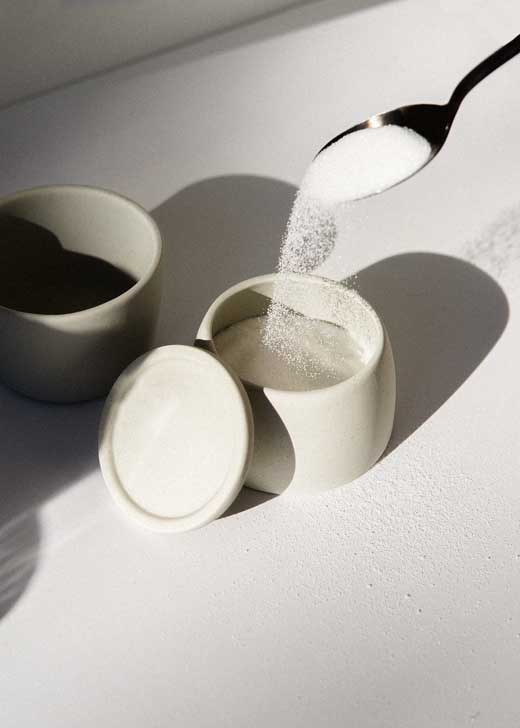 What Is Stevia?
When it comes to reducing sugar-related ailments and conditions, Stevia has long been turned to as a healthy sugar alternative. Often referred to as nature's zero-calorie sustainable sweetener, Stevia appeals to those looking for refined sugar alternatives without sacrificing flavor.
Stevia is a natural sweetener sourced from the leaves of the Stevia plant. The Stevia plant grows across South America and has provided flavoring to local communities and regions for centuries. Today, Stevia is available in various forms, ranging from pure extracts and extract blends to whole leaves. It's a popular product option because it's a zero-calorie sweetener packed with flavor that eliminates many health risks linked to refined sugar intake.
Health Benefits to Consider
As a naturally sourced product, Stevia comes with many health benefits that have people swapping out refined sugar for this alternative option. Stevia contains absolutely no calories, making it a popular and healthy choice for those with weight-loss goals.
When Stevia is incorporated into a diet to replace other sugars and sweeteners, blood sugar levels are directly affected, which helps some people reduce their overall risk of developing diabetes. The sweet-tasting extract has also been shown to reduce cavities over time in both children and adults.
The Potential Downside of Stevia
As with all products, Stevia can affect consumers differently. Some people are more sensitive to Stevia's effects in various forms.
For example, while highly refined Stevia extracts are deemed safe by the Food and Drug Administration, the health effects of raw and whole-leaf Stevia extracts have not yet been thoroughly researched. Similarly, there is very little research to date on the health effects Stevia may have on a woman during pregnancy.
In some people, Stevia has been shown to interfere with gut bacteria that aids in smooth digestion. Its ability to reduce blood sugar levels could also be problematic for individuals who take certain medications to regulate blood sugar. So you need to decide if Stevia makes sense for you.
What Is Monk Fruit?
While Stevia is commonly used as a sweetener for beverages and food items, it can also be found as a staple ingredient paired with monk fruit in beauty products like NutraChic by AVEGAN Beauty.
Monk fruit is known for its powerful anti-aging effects. It has been used in Chinese medicine for years. High in Vitamin C, this ingredient is great for detoxification and boosting energy.
The Benefits of Monk Fruit
Monk fruit, also known as Luo Han Guo ,has no calories, carbs, or fat, so it can be a helpful calorie-free sweetener for people looking to lose weight and still eat delicious food. By simply swapping out your table sugar for monk fruit, you can save a substantial amount of calories and carbs.
Monk fruit has also been shown to include anti-inflammatory properties. It's been used in China for centuries to relieve inflammation. The fruit may help prevent cancer and keep blood sugar levels stable.
Choosing Natural Sweeteners
Just as with all good things in life, balance is vital when choosing Stevia or monk fruit as a preferred sugar substitute. When used in moderation, Stevia is shown to provide some tremendous health benefits.
We use both stevia and monk fruit in our vegan collagen supplement, NutraChic, to provide a tasty, nutritious drink that your body & taste buds will look forward to each day. Try it yourself today.