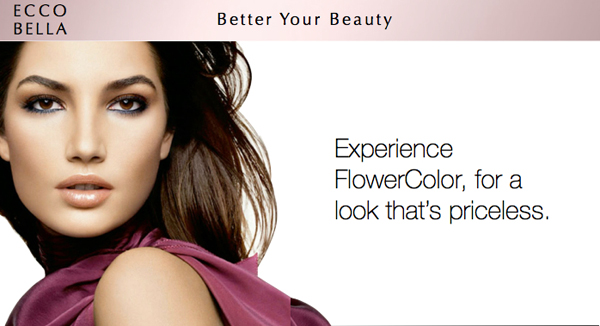 No one can argue that flowers are one of the most beautiful creations on this wondrous planet of ours. Flowers are often used to describe the beauty of a woman. Flowers inspire some of the most captivating songs and poetry of all time. Here at Ecco Bella, we have discovered one of nature's best kept secrets and captured the power held within flowers to create our FlowerColor Eyeliner.

Many types of eyeliner on the market can dry or irritate your delicate eyelids due to the harsh chemicals used in their formulas. In contrast, our soft eyeliner contains a unique formula that utilizes the all-natural wax of flowers to prevent moisture from leaving the delicate skin near your eyes. This very special formulation of eyeliner will last hours after application.

Unmistakably, our eyes serve as windows to this beautiful world and can be the most communicative aspect of a woman's face. They should, of course, be tended to with the utmost care. If you have ever rubbed the petals of flowers and leaves between your fingers, then you know that they are smooth, soft and filled with moisture.

Allow our FlowerColor Eyeliner to enhance your natural beauty. FlowerColor Eyeliner is beautifully vibrant, softly sophisticated and always natural. It will gently line your eyes, and provide you with added confidence, knowing you are only applying healthy ingredients to your skin.

Our FlowerColor Eyeliner is specifically formulated to glide on smoothly and evenly to define eyes with rich color. With six different colors to choose from, you can grace your skin with the look you would like to portray at any time of day - whether it is for the beginning of your day or a special evening out. As dew settles upon flowers, so too will this lush formula grace your eyes as you look to your surroundings. Radiate with health through the power of natural beauty.

Truly discover how Ecco Bella Makeup can Better Your Beauty.

Made with vegetable waxes. No synthetic petroleum oils.

Naturally-preserved. Gluten-free & vegan.