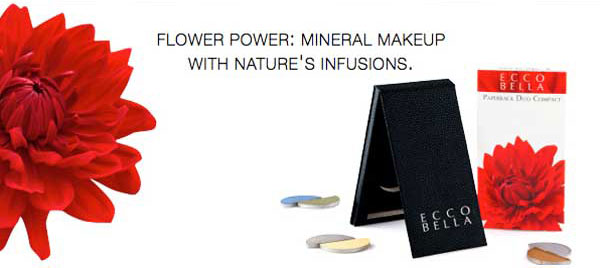 There's more to beauty than a smear of color on the cheeks and a well-coiffed head of hair. True beauty is revealed without causing harm to the planet or animals. True beauties like you seek out products that contain only natural and organic ingredients derived from plants and minerals. You avoid products that rely on the inexcusable practice of animal testing. You demand brands that respect the environment by using eco-friendly packaging.
In short, you are an Intelligent Beauty.
Let's talk packaging. Products that rely on plastic containers that clog up landfills. There's about $7 billion worth of beauty products sold every year in the US alone, and most of the discarded product heads straight for the dump. The plastic packaging that doesn't get recycled or buried in a landfill may be washing out to sea. Just let that sink in. The good news is you can make a difference simply by buying ECCO BELLA reusable compacts and seek out packaging that can be recycled or is made of recycled materials. We are doing our part by seeking out the latest technology to reduce or replace our plastic. Knowing you're doing your part to save the planet from all that trash should give you a feel-good, inner-beauty glow!
Your cosmetics may be harming the environment in more ways than just landfill fodder. If the list of ingredients on your favorite eyeshadow or lipstick includes words you can't pronounce, then the product in your hand is likely contributing to chemical run-off in our waterways. Then there's those awful microbeads! The damage done by those tiny plastic beads being washed out to sea is horrific. Choosing natural, organic products that rely on plant-based ingredients saves both you and the planet from toxic chemicals.
Flower Waxes. We'll let you in on a little secret. Have you ever noticed how rain and dew droplets appear on a flower petal? This layer of delicate wax that coats flower petals forms a protective barrier. It keeps heavy rain from being absorbed into the petal, while protecting it from drying out in the sun. Just imagine what this could do for your skin!
How we get flower waxes. In creating essential oils for perfume, a solid material is left behind in the vats after the essential oils are distilled. That's the flower wax. When it's used in cosmetics, it creates a layer of protection that keeps your natural moisture from seeping through your make-up. Translation? Your gorgeous look stays fresh longer.
Flower wax isn't the only plant-based ingredient that separates intelligent beauties from the others. Aloe, the 3,000-year-old beauty secret, helps stimulate cell renewal. You understand the value of this natural ingredient when we're talking body lotion, but did you know that aloe also has a place in your eye shadow and other cosmetics? As a component in your cosmetics, aloe will soothe and calm your skin.
Green tea extract is a powerful, skin-loving antioxidant that promotes a more youthful glow. Rounding out the list of botanical powerhouses to seek out, sweet almond oil has a list of fantastic benefits for your skin. It contains anti-inflammatory properties and offers an array of antioxidant benefits. It's also an excellent emollient, which means it hydrates dry skin and helps our make-up glide on your skin with ease.
We'll let you in on one more secret. You are our inspiration. Your preference for natural, organic, and cruelty-free products continues to inspire us to be an innovator in natural beauty, while looking out for the animals, the planet and you! Grab your selfie-stick and let's see your best Intelligent Beauty smile! Don't forget to tag us on Instagram with @eccobellabeauty and use the hashtag #BetterYourBeauty.