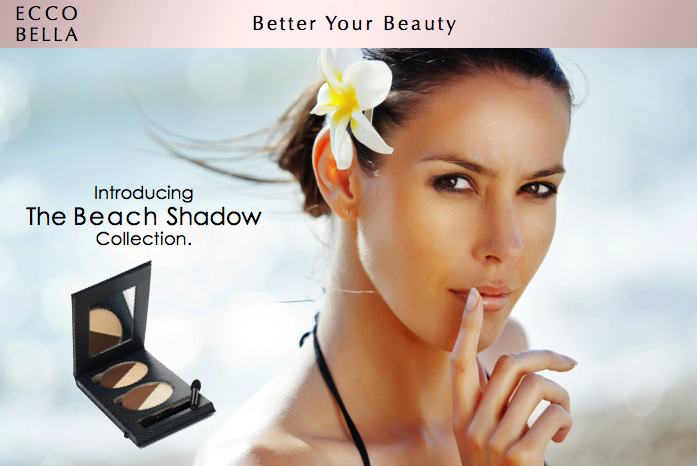 It's Beach Season, and before we grab our towels and head for the Sun and Surf, we wanted to leave you with the perfect Sumer collection. That's why we at Ecco Bella are celebrating Summer with a collection inspired by our favorite Summer getaway – the beach! Specifically, we took cues from the soft, warm sands of beaches around the globe. From the dark sands of Maui to the white sands of Jamaica, and everything in between, our Beach Collection for 2014 consists of three expertly curated eyeshadows and a powder eyeliner to reflect our love of the beautiful palettes we see in the sand. This collection creates a soft, easy beach look that's no fuss, no muss- just warm Summery shades to accentuate your pretty peepers.

Vanilla is the perfect shadow for a soft highlight under the arch of your brows and in the inner corners of your eyes. Heather is a beautiful warm buttery cream shade with a hint of peach, which looks great all over the lid. Deep Taupe is a warm tan that looks amazing in the outer "V" and crease, and Brown powdered liner is a great way to add definition to your top and bottom lashes. Ecco Bella's powder liners are smooth, pigmented, and easy to apply, making it simple for you to adjust the drama for a bolder look, or create a soft, smudged line for a touch of definition.

The best part about our Beach collection is that all colors in it look stunning together, separately, or in any combination. Whether you simply apply Deep Taupe all over your lid and blend it out for a monochromatic look, skip the liner and use all the shadows, or blend all the shades together in a four-toned warm, earthy look, all looks created spell one word: B-E-A-C-H!

Pair the shadows with our Peach Frost lipstick and Peace gloss for a super Summery peach pop of color, or smooth on our silky Vitamin E Lip Smoother in Spice to play up the earthy vibe.

As always, our products are free from parabens, dyes, talc, mineral oil, and any harsh or dangerous chemicals. We've crafted our FlowerColor eyeshadows carefully, infusing them with flower waxes, sweet almond oil and green tea extract, just to name a few of the naturally beneficial powerhouses in our formidable formula. And our Beach collection comes in our fully biodegradable Paperback Duo compact. Just another of the countless ways we at Ecco Bella show our love and respect for Mother Earth.

We invite you to try our Beach collection today and see for yourself the magic of Ecco Bella's ultra-soft, highly pigmented shadows and powder liner. This collection (plus our amazing mascara), will be the only eye makeup you need this Summer! Now put the makeup brush down, grab your beach bag, and go lay in that warm, soft sand that your eyes are outdoing!

Ecco Bella wishes you sunshine and warm waters!