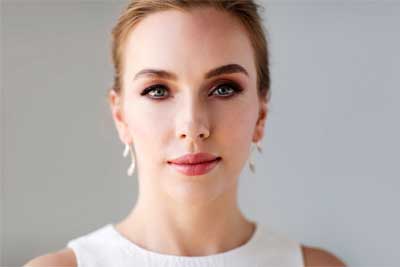 A few well-placed sweeps of your brush with the right pink-hued powder will highlight the curves and angles of your face without a litany of products and brushes traditional contouring demands. Grab your favorite shade of FlowerColor Blush and try the newest, freshest way to contour your face! You can create four different, unique looks. We think Earthy Rose is a great choice to get started with.
Prep Your Canvas
No matter what look you're going for, start with a clean, fresh face. After you cleanse, apply EB's Age Antidote Day Cream. This product doubles as primer (just ask Tracy Anderson!) and it will protect your skin from stress, environmental aging, wrinkles and sun damage.
Get Dewy Fresh
Before you break out the blush, even out your complexion with FlowerColor Liquid Foundation. For this look you need a product that's lightweight and natural looking. Not only is our foundation up for the task, it also includes Ecco Shield, a blend of titanium dioxide and other pigments that help protect the skin from the effects of the environment.
Look 1: Lift
Apply color high on your cheekbone. Sweep the color up toward your hairline with the highest concentration of color at the high points of your face. For a little extra definition, lightly dust the same color along your jawbone. This look will make your cheekbones appear raised and more pronounced.
Look 2: Plump
Smile, Gorgeous! That full grin is going to help you pinpoint the apples of your cheeks. Got it? Great. Now using a buffing motion, apply your blush to that sweet spot. This technique is going to add volume to your cheeks. Full, flushed cheeks give you a healthy, youthful, energized glow.
Look 3: Lengthen
If you'd like to lengthen your round face to appear more oval, this look is the way to go. Place the color just below the apples of your cheeks to create the illusion of lower cheekbones which, in turn, will lengthen your face. For a little added sizzle, dust a lighter shade of blush to create a highlight. No harsh lines, however. Make sure you buff the two shades well to create a gradual transition from dark to light.
Look 4: Sun-Kissed Drama
If you're ready to define your face in a way that says, "I've spent the day outdoors and I love it," grab that blush brush and get ready to glow! Dust color above your brow up towards the temples, along the center of your nose, your cheeks (aim just below the cheek bone) and down the side of your neck from the base of your ear.
Finishing Touches
With Look 4, you'll want to make blush the total star. Stick with a bit of Vitamin E Lip Smoother and a natural hue FlowerColor eye shadow to finish things off. For the other three looks, try an eye and lip look in a similar color palette to your blush. Do your eyes up with Star Shimmer Dust and pink up your lips with your favorite FlowerColor lipstick.
Have fun experimenting with all four looks. Snap a selfie sporting your favorite and share it with us on Instagram. Remember to tag @eccobellabeauty and use the hashtag #EBBlush.