Posted by Stephanie Deline on 19th Jun 2014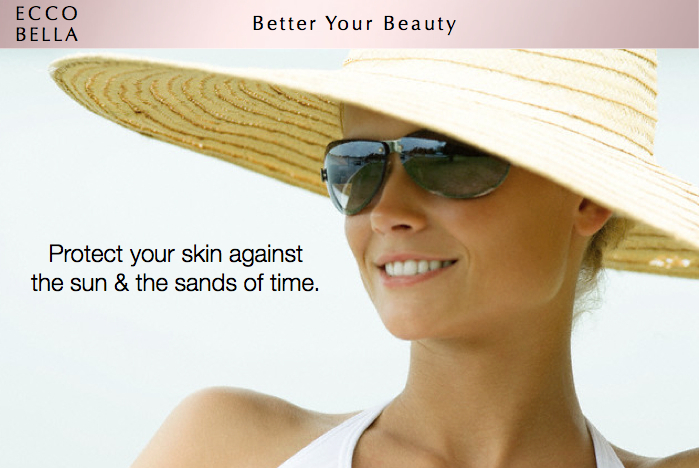 Sun protection is a hot topic these days, and with good reason. Those blissful rays under which we love to bask are getting more powerful and harmful each year. Protection is key for beautiful skin.

What if you could get natural sun protection and anti-aging benefits in one clean, safe and truly effective product? What if you could achieve smoother, healthier skin with visibly reduced lines and wrinkles while at the same time keeping UV rays at bay? And what if it all came in a rich, luxurious cream instead of a sticky, pasty mess?

No more "what ifs". This product exists, and it is brought to you by none other than Ecco Bella. Not only does our Natural Age Antidote Day Cream SPF 15 with VitaminCells provide all the moisture and anti-aging benefits you want in your face cream, but this decadent cream also provides chemical-free sun protection of SPF 15, with the help of titanium dioxide and natural Vitamins C and E. That is why it is soothing to even the most sensitive skin.

Anti-aging superstars such as organic jojoba oil and CoQ10 mingle with powerful moisturizers and skin conditioners like organic aloe and organic sunflower oil to create an intensely effective yet natural and gentle triple action skin care essential. It only feels natural to us, a no-brainer, if you will, that sun protection and anti-aging go hand in hand. After all, as beautiful as those golden rays are, soaking them up without the right protection can lead to serious health issues, not to mention increased wrinkles, age spots and fine lines.

That's why we developed a product that gives you an all-in-one solution to sun safety, anti-aging and hydration. Our intelligent beauties crave skin care products that are safe and multi-use, and that's why the Natural Age Antidote Day Cream SPF 15 is the season's must-have product, both as a preventative measure for maintaining younger skin no matter what your age.

Whatever your skin type, moisture and sun protection are two things that should place high on any list of skin care priorities, and our VitaminCell enriched formula provides a healthy dose of sun safety, hydration.

We want you to celebrate all the seasonal beauty the Earth has to offer, but we want you to do it safely and wisely. Now, you can do that and fight aging at the same time, all the while gifting your skin with the vitamins and nutrients it thirsts for. So pick up your bottle of Natural Age Antidote Day Cream SPF 15 today and strike that perfect balance between Queen of the beach and sun-safe brainiac.

VitaminCells enriched skin care is only at Ecco Bella.