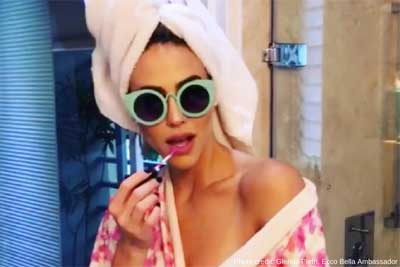 Let's cut right to the point. You deserve to be pampered. You are an Intelligent Beauty who's looking out for our planet and all that lives upon it. We love you for it and we want to help you unwind.
We also know that you're keen on exfoliation. You understand the value of sloughing off the dead skin cells and dirt that can build up on the skin's surface. In fact, our Leave On Invisible Exfoliant and Blemish Remedy is part of your regular skin care regime. We bet you're even savvy enough to apply a little to common rough spots, such as your elbows, feet, and knees. What about the rest of your skin, though? Try these DIY body scrubs to buff the skin you're in. 
Sweet & Basic
For a real back-to-basics scrub, combine ½ cup of sugar with ½ cup of olive or coconut oil. You can jazz things up with a few drops of a favorite essential oil or you can just stick with a simple sugar & oil combo.    
Sunrise Sugar Scrub
Oatmeal and coffee aren't just breakfast staples. Each is an excellent addition to your body scrub. Combine ¼ cup of olive oil, ½ cup of brown sugar and ½ cup of either oatmeal (for sensitive skin) or coffee grounds, for an invigorating twist and watch them swirl down the drain taking the dry skin with them.
Lemon Scrub
Bright, sunny, and energizing—a kiss of lemon is a beautiful way to perk yourself up in the morning! Mix 3 cups of sugar, ¾ cup of olive oil, the juice of one lemon, the zest of two lemons, and 2 tablespoons of vanilla extract for a day-brightening scrub.
Pumpkin Spice Scrub
When you want something spicy and warm, this scrub is scrumptious. Combine a cup of brown sugar, ½ cup of coconut oil, and ½ teaspoon of pumpkin pie spices. If you have it, you can mix in ½ teaspoon of vitamin E oil.
Next Steps
Regardless of what recipe you select, your next step is going to be the same. Mix all your ingredients together well and then store your scrub in an airtight container. When you're ready to pamper yourself, rub a dollop of the mixture over your skin in the shower. Rinse the scrub off thoroughly.
Keep it Going
You've scrubbed your skin with your gentle DIY scrub, now it's time to wrap yourself in EB's luxurious, Organic Water-Free Herbal Body Lotion. There's no water in this lotion. You can drink all the water you need for free. Instead we've added not one, but seven organic oils and butters: coconut oil, sunflower seed oil, shea butter, saffloweroil, cocoa butter, sesame oil, and babassu oil. No wonder it feels so good on the skin!
Ok, Gorgeous, it's time to get busy pulling together your favorite scrub and treating yourself to an at-home spa day. Try one of the recipes here or create your own. Just don't forget to share a picture of your creation with us! Take a pic of your ingredients and finished product. Don't forget to tag us on Instagram with @eccobellabeauty and use the hashtag #EBDIYSpaDay.