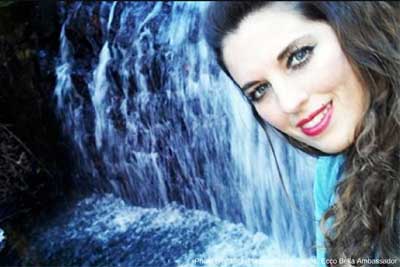 Want to add more sizzle to your day? Amp up your eye makeup by swapping out your everyday earthy-hued pencil for a spark of blue. Here's how to achieve a sophisticated fashion "do" and keep it from turning into a bad 80s fashion "don't." Try these four looks with the EB Soft Eyeliner Pencil in Royal Blue.
Lower lash surprise
If your traditional look is low-key, try a small, subtle change. Keep a natural, neutral look with FlowerColor Eyeshadows in shades like Deep Taupe and Fawn across your lid. Introduce your bit of blue by running your Soft Eyeliner Pencil along your lower lash line.
Dress up this look by adding a little bit of gold to your blue. Apply your blue liner along the lower water line of each eye. Sweep a swath of Sun FlowerColor Shimmer Dust across the lid. Talk about sizzling!
Hit the Highlights
Blue can be the star without taking over the whole show. For this look, you'll need Soft Eyeliner Pencils in Royal Blue and Velvet along with a bit of Heather FlowerColor Eyeshadow. Start your eyes off with a sweep of Heather from the crease to the brow. Then apply the Velvet liner to both your bottom and upper lash lines. Time to pull out the blue! Rub on a bit of your second liner just under the black Velvet line you created along your lower lashes. Then add some Royal Blue liner to the Velvet line on your lid, extending up towards the crease. Smudge the blue to blend and soften.
Peek-a-Blue
If a classic charcoal smoky eye is your go-to sultry look, try jazzing things up with a peek of blue in the inner corner of each eye. To pull this one off, you'll want to apply the Velvet liner to the waterline of your eyes and along the upper lash line. Outline the Velvet black liner with the Royal Blue pencil. Finish the look by giving the inner corners of each eye just a little extra attention with the blue liner.
The Cat's Meow
You love your trusty cat eye and why not? It's you! Add a blue twist. Craft your cat eye the way you normally would. When your Velvet black liner is in place, apply a bit of blue just below the winged edge on either eye. To really kick it up a notch, also rub a little bit of blue just on the center of the line for a subtle halo of indigo.
Complete the Look
To really pull off these sophisticated looks, keep the color focus on the blue liner and balance the blue eye feature with a subtler lip and face. For the lips, stick with a whisper of color from one of our Vitamin E Lip Smoothers and for the cheeks, a soft flush of color from one of our FlowerColor Blushes. Finally, frame those beautiful eyes with our FlowerColor Mascara.
Ready to rock the blue eye trend? Snap a selfie and share it with us on Instagram. Use the hashtag #EBBabyBlues! Be sure to tag us @eccobellabeauty.