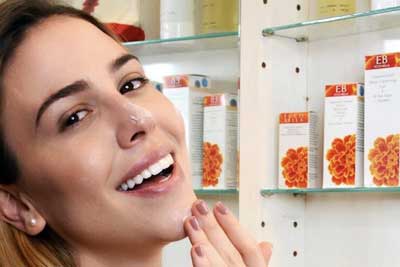 Warm sunny days are perfect for a look that says, "I just woke up gorgeous." There's no need for contouring or clearly 'made up' faces. You want something that looks dewy fresh and natural. If that sounds about right, let's talk about "Not touring," the anti-contour look that's all about subtle highlights and sheer skin. Just three simple steps and this trend will have you looking like you've spent your days in your favorite space in the great outdoors.
Prep your canvas
Remember this is a sheer, low-maintenance, hint-of-make-up look. You don't want anything heavy on your face. Use the sheer, lightweight Flower Color Liquid Foundation to even out your skin tone. The 3-in-1 formula is also going to treat your skin to lush aloe vera, plus our Ecco Shield, a blend of titanium dioxide and other pigments that help protect the skin from the effects of the environment.
Pink it up
Hit your cheeks with just a hint of sun-kissed pink. EB's FlowerColor Blush in Purity is made for this look! Use a big fluffy brush to gently sweep the color on, no harsh lines here. You're looking for a sweet, natural look. By using Purity's soft pink hue, only Mother Nature will know you've used a product.
Go for the Glow
After you tap off any extra blush from your brush, it's time to bring a little bit of glow into the game. Sweep one of EB's FlowerColor Shimmer Dusts across the points of your face that naturally reflect the light when the sun is shining on it. Aim for that space right under your eyebrow, the bridge of your nose, your cupid's bow and finally a quick sweep across your chin. If you have a warmer skin tone, you can swap out the Shimmer Powder for FlowerColor Face Powder in Fair or Pale.
Finish the look
You look absolutely fabulous as is, but if you want to add a step for your eyes or lips, remember you're going for a natural, no-fuss look. Pucker up with a Vitamin-E Lip Smoother in Go Bare or Petal for just a hint of color and a lot of moisturizing, lip-loving Vitamin E. Give your lashes a gentle sweep of FlowerColor Natural Mascara. Voila!
Make sure you snap a quick pic of your shining, sun-kissed self. Don't forget to share it with us on Instagram at @eccobellabeauty and use the hashtag #EBNoTTouring.