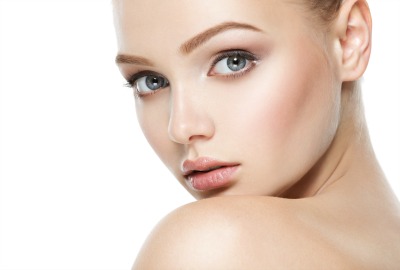 Big, sparkling, sexy eyes are trending this season, and it's a look you can easily create yourself. You may not be genetically blessed with doe eyes, but if you put these simple make-up tricks to work f, everyone will think you do.
Lighten up with shimmer – Apply a light shade of eye shadow, or better yet, a youthful and flirty FlowerColor Shimmer Dust, to the inner third of your eyelid (tear duct out to center). This makes your eyes look larger and fresher! If you'd rather go more matte than shine, try FlowerColor Eyeshadow in hues like Fawn, Heather, Vanilla or Clay, depending on your skin tone.
Draw the eyes up – Highlighting the space just under your eyebrow will create the illusion of a larger eye. The trick is not to go too light, Flesh-toned eyeshadows in hues that are a shade lighter than your natural skin tone work best.
Skip the dark-side – You may have figured out how to pull off the perfect cat eye or mastered the art of the smoky eye, but if you're going for the bright-eyed look, don't put those skills to use. The secret to pulling off this trend is to play with minimal, bright, light-hued makeup. While we're on the subject of darkness, a bit of Natural Cover-up stick under eye shadows will soften the effect..
Lush, long lashes – Want big beautiful eyes, framed by luscious lashes? Gorgeous! Apply FlowerColor Mascara to your lashes. Be generous. Skimpy lashes can make your eyes look smaller. Go big and bold!
Subtlety on the rest of your face – Consider your eyes spotlight worthy. To pull this off, don't let your lips steal the show. Rock a nude Vitamin E lipsmoothers in GoBare or Petal or you'll love our Good For You Gloss in Peace too. To complete your look, introduce a flush with a brush of FlowerColor Blush to your cheeks.
Baby your baby blues (or greens, or browns) - Apply VitaminCells Natural Eye Nutrients Cream day and night to replenish the delicate skin around your eyes with patented antioxidants. We're talking about youthful, glowing skin that's going to make your eyes pop!
Take a good look at your lovely self in the mirror. You look bright eyed and bushy tailed, even if you're not quite awake yet! Snap a selfie and share it with us. Don't forget to tag us on Instagram with @eccobellabeauty and use the hashtag #EBBrightEyes