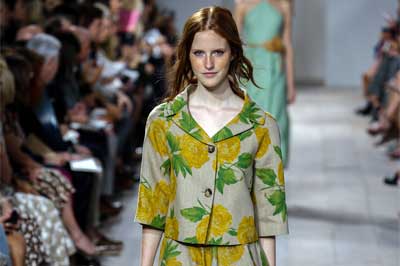 We are SO in love with granny florals right now. As much as we love a flirty , floral frock, we want to balance that fashion trend with sun-kissed, innocent makeup, floral wax infused, of course. Pulling off these vintage inspired florals can be tricky. To keep your look modern, don't have your makeup compete with your wardrobe. Spring inspired make-up is all about soft neutrals paired perfectly with your favorite flower attire.
Fresh-faced canvas.
Reach for a liquid foundation that offers lightweight, natural-looking coverage like our Natural FlowerColor Foundation. You're going for natural, radiant skin, not a face that looks caked-on and covered up. Select a shade that matches your skin tone for the most natural look. It's even better when your foundation is up for triple-duty like ours. It's a treatment, beauty shield and foundation all in one!
Go for the floral glow
Flattering floral outfits need FlowerColor Shimmer Dust. Use a shade like Sun to add brightness to your t-zone. If you're up for a 'makeup-less' look, use Sun and Moon to bring a subtle color and brightness to your eyes.
Kissable Sun-kissed cheeks.
If you sweep on Star Shimmer Dust, and a soft, natural pink-hued blush like our Purity or Peach Rose FlowerColor Blush will create a subtle flush reminiscent of days spent out in the warm, spring sun. Use your big rounded brush to gently sweep a hint of color across the apples of your cheeks and blend well.
Soft color around the eyes.
Leave the dark and bold hues behind when you're sporting floral fashions. Instead, look for soft and natural hues. When it comes to FlowerColor eyeshadow you have plenty of earthy-hued, natural color combos to pick from. Use a combo that complements your skin tone and makes your eyes pop without competing for attention with your outfit.
Whisper of liner.
To define your eyes with softness and not drama, dampen a small angled brush to smudge your FlowerColor Powered Eyeliner into your upper lash line. If your eyes are sporting earthy hued eyeshadow, LINK Brown Powered Eyeliner is a nice complement. On the other hand, if you opted for LINK Star Shimmer Dust, pair it with smudge of LINK Charcoal liner.
A fringe of lashes.
There is always time to have flirty, luscious lashes. FlowerColor mascara wraps around and lengthens lashes to their longest. Not only is this natural formula ideal for sensitive eyes, it also comes with its own built-in mirror for quick touch-ups.
Lip Love.
Although the rest of your make-up has stuck with dewy-fresh subtle color, your lips have some options. You could continue the barely-there theme, and sweep on a hint of color with a Vitamin E Lip Smoother. Tracy Anderson's favorite shade, LINK Go Bare, would be perfect for this look!
A bold color on the lips, however, can pull out a particular hue from your outfit and make it really pop. If that sounds up your alley, reach for a FlowerColor Lipstick in a shade that most closely matches the color you want to boost in your attire. Talk about flower power!
Now, you're ready to embrace your inner flower wrapped goddess. Pluck your favorite floral print from your closet, pair it with your new natural make-up look and snap a selfie to share with us! Don't forget to tag us on Instagram with @eccobellabeauty and use the hashtag #EBFlowerPower.