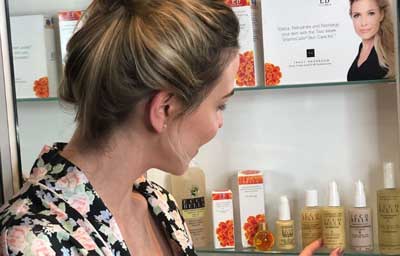 We love the natural beauty of flowers. So when those flowers lend some of their lush exquisiteness to help better our beauty, Che bella! Take, for example, the nutraceutical lutein, which is found in the beautiful yellow, orange, and red-orange petals of the marigold.
What is it?
Lutein is a carotenoid, and like some other carotenoids we love, think beta carotene, lycopene, and astaxanthin, it's a powerful antioxidant. You can find lutein in dark green veggies like spinach, kale, zucchini, Brussel sprouts, and broccoli, as well as in kiwi, carrots and avocados. Eat it and wear it! To harness lutein's topical benefits, use products like EB's VitaminCells Skin Care.
History of healing
Before we dive into the specifics of lutein itself, let's talk about the lovely little flower it comes from. The awesomeness of the marigold flower isn't a new revelation. Marigold has been used since the dawn of time (okay, maybe we're exaggerating a little!) to treat burns, sunburn, bruises, and more.1 In modern times, a study that examined the effects of marigold on venous ulcers found a statistically significant acceleration of wound healing in the group receiving treatment with marigold, when compared to the control group.2   
Blue Light Shield
We've all heard about the risk of UV exposure from sunlight. But the sun may not be the only source of harmful rays. In fact, one study suggests that blue light emitted from our electronic devices may penetrate skin more deeply than the sun's UV rays3. That means sitting in front of your laptop screen or catching up with Instagram before bed could be aging your skin. Bring on the lutein! This nutraceutical is widely recognized as a blue-light filter4.
Speaking of UV exposure
Lutein may provide protection from UV rays, too, which have been shown to cause 75% of all skin aging. A research team used a double-blind, placebo-controlled study to measure the ability of lutein and lycopene to reduce UV damage to the skin. The research team studied skin biopsies for signs of damage. They found that the group who had supplemented with lutein and lycopene showed significantly less damage than the placebo group5.  Further, an observational study found that diets high in lutein-rich, plant-based foods was associated with a reduced risk of cutaneous melanoma6.
Healthier skin
Lutein's work isn't done! Other studies have shown an increase in skin hydration7. In one double-blind, placebo-controlled trial, participants taking a lutein supplement showed lighter, less damaged skin scores, and higher levels of skin elasticity when compared to the placebo group8.  
Ready to tap into the benefits of this superstar ingredient? We want to make it even easier for you to get started. If you sign up for our EB Newsletter today, we'll give you 15% off. Don't stop there! Sign-up for our EB Rewards program to continue earning rewards.
So, go ahead: register, save, and splurge! Just make sure you snap a picture of your order when it comes in and share it with us on Instagram. We want to see what you got! Remember to tag @eccobellabeauty and use the hashtag #EBVitaminCells
1 Plants used to treat skin diseases. Nahida Tabassum and Mariya Hamdani.
2 Results of the clinical examination of an ointment with marigold (Calendula officinalis) extract in the treatment of venous leg ulcers. Duran V, Matic M, Jovanovć M, Mimica N, Gajinov Z, Poljacki M, Boza P.
3 Blue-Violet Light Irradiation Dose Dependently Decreases Carotenoids in Human Skin, Which Indicates the Generation of Free Radicals. Staffan Vandersee, Marc Beyer, Juergen Lademann, and Maxim E. Darvin
4 The Role of Phytonutrients in Skin Health. Julie A. Evans and Elizabeth J. Johnson
5 Molecular evidence that oral supplementation with lycopene or lutein protects human skin against ultraviolet radiation: results from a double‐blinded, placebo‐controlled, crossover study. S. Grether‐Beck, A. Marini, T. Jaenicke, W. Stahl, J. Krutmann.
6 A protective effect of the Mediterranean diet for cutaneous melanoma. Fortes C, Mastroeni S, Melchi F, Pilla MA, Antonelli G, Camaioni D, Alotto M, Pasquini P.
7 Beneficial long-term effects of combined oral/topical antioxidant treatment with the carotenoids lutein and zeaxanthin on human skin: a double-blind, placebo-controlled study. Palombo P, Fabrizi G, Ruocco V, Ruocco E, Fluhr J, Roberts R, Morganti P.
8 Overall skin tone and skin-lightening-improving effects with oral supplementation of lutein and zeaxanthin isomers: a double-blind, placebo-controlled clinical trial. Vijaya Juturu, James P Bowman, and Jayant Deshpande