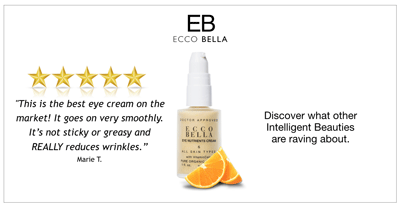 Vitamin C is a ubiquitous and popular vitamin for skin care, yet we all need to be taking much more of it.
Derived from fruit, this powerhouse promotes collagen production, protects skin cells and supercharges its pal vitamin E so that it too can work more effectively. That's just the highlight reel, though. If you really want to understand the value of vitamin C, keep reading.
What is it?
Vitamin C is a water-soluble vitamin found in plenty of scrumptious fruits like oranges, guava, kiwi, strawberries and papaya. Green and red peppers are also loaded with vitamin C. Your body uses vitamin C for the growth and repair of tissues, as well as for the formation of collagen. As an antioxidant, it can limit or prohibit damage caused by free radicals and it can lend a helping hand to your immune system1.
Sun warrior providing photoprotection 
Vitamin C doesn't absorb UV rays, but it can limit the damage caused by UV light exposure—and that's a fine thing! One team of researchers found that a topical application of a solution containing vitamins C and E provided "substantial UV photoprotection for skin."2 The team applied a solution containing vitamins to human skin over the course of four days. Each patch was then exposed to UV rays in a solar simulation and the following day evaluated for indication of UV damage. The team found that this combination was especially beneficial in reducing thymine dimer mutations that are linked to skin cancer. This result was repeated by another research team3 that also found "appreciable photoprotection" from the combination of vitamins C & E. Here's the good news for you: EB's VitaminCell Skincare line has both of these and more!
Smooth operator reducing the signs of age
Laugh lines are a sign of life well lived, but if you want to slow down their arrival, make sure you're consuming enough vitamin C.  Researchers4 surveyed over 4,000 women ranging in age from 40 to 74. Participants were evaluated by dermatologists who noted signs of aging such as wrinkles, dryness and atrophy.  The researchers found that woman who reported a higher intake of vitamin C, and lower intakes of fat and carbs, had younger looking skin.
Another team of researchers5 found similar results with the topical application of vitamin C. Their double-blind, randomized trial was conducted over the course of 6 months and compared the application of a vitamin C cream vs a placebo after 3 months and 6 months of use. They found "clinically apparent improvement," including a decrease in wrinkles, in those participants who had been given the vitamin C cream.
Quench your skin's thirst
Are you enjoying the outdoors (as you should!) but finding that your time out in the elements is leaving your skin feeling a little parched? Vitamin C can help with that, too. In the aforementioned study4 that looked at vitamin C's impact on signs of aging, researchers noted a decrease in dry skin. What if it's applied topically? One three-month, randomized, double-blind study6 looked at 19 people between the ages of 36 and 72 years old. Study participants who used a daily application of vitamin C experienced significant improvement in roughness, a sign of dryness, among other benefits. 
And that's just the beginning
There is no shortage of studies illustrating the benefits of this dazzling vitamin. From fighting acne7 to its role in wound healing8, 9, vitamin C has proven its value as part of your diet and your beauty routine. Ready to tap into the benefits of this superstar ingredient? Well, we have one more thing that will widen that gorgeous smile of yours even more. If you sign up for our EB Newsletter today, we'll give you $10 off. Don't stop there! Sign-up for our EB Rewards program to continue earning rewards.
So, go ahead: register, save, and splurge! Just make sure you snap a picture of your order when it comes in and share it with us on Instagram. We want to see what you got! Remember to tag @eccobellabeauty and use the hashtag #EBVitaminCells
1 Vitamin C:  https://medlineplus.gov/ency/article/002404.htm
2 A topical antioxidant solution containing vitamins C and E stabilized by ferulic acid provides protection for human skin against damage caused by ultraviolet irradiation. Murray JC, Burch JA, Streilein RD, Iannacchione MA, Hall RP, Pinnell SR.
3 UV photoprotection by combination topical antioxidants vitamin C and vitamin E. Lin JY, Selim MA, Shea CR, Grichnik JM, Omar MM, Monteiro-Riviere NA, Pinnell SR.
4 Dietary nutrient intakes and skin-aging appearance among middle-aged American women. Cosgrove MC, Franco OH, Granger SP, Murray PG, Mayes AE.
5 Topical ascorbic acid on photoaged skin. Clinical, topographical and ultrastructural evaluation: double-blind study vs. placebo. Humbert PG, Haftek M, Creidi P, Lapière C, Nusgens B, Richard A, Schmitt D, Rougier A, Zahouani H.
6 Use of topical ascorbic acid and its effects on photodamaged skin topography. Traikovich SS.
7 Sodium L-ascorbyl-2-phosphate 5% lotion for the treatment of acne vulgaris: a randomized, double-blind, controlled trial. Woolery-Lloyd H, Baumann L, Ikeno H.
8 Efficacy of vitamin supplementation in situations with wound healing disorders: results from clinical intervention studies. Ellinger S, Stehle P.
9 Supplementation of vitamin E, vitamin C, and zinc attenuates oxidative stress in burned children: a randomized, double-blind, placebo-controlled pilot study. Barbosa E, Faintuch J, Machado Moreira EA, Gonçalves da Silva VR, Lopes Pereima MJ, Martins Fagundes RL, Filho DW.