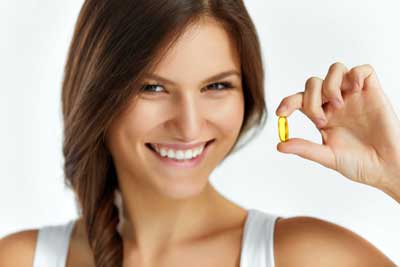 Intelligent Beauty Tracy Anderson has said, "Everything you embrace in your lifestyle has a cause and an effect." She's exactly right! Every small purchase we each make about what to use on our bodies or what to eat, affects not only us, but the entire planet. That's why we believe it's important to create products that use organic plant-based ingredients sourced from ethical suppliers.
We'd like to introduce you to one of those organic plant-based ingredients: Tocotrienols. You'll find this powerhouse ingredient in our VitaminCell Skin Care products, Organic, Water-free Skin Lotion, and our Vitamin E Lip Smoothers.
So, what are Tocotrienols?
You undoubtedly know a little something about vitamin E, which helps your skin retain its own natural moisturizer and neutralizes free radicals. What you may not know, however, is that vitamin E is actually compromised of 8 different compounds. Half of them are called tocopherols and the other half are known as tocotrienols. They are 50 times more potent than d-alpha tocopherol alone. If your skin care products don't tap into the benefits of all eight, you're missing out. All eight combined are what you might call Superpowered Vitamin E!
Where does it come from?
Plants like palm, wheat germ, barley, saw palmetto, and other grains and nuts are a good source of tocotrienol. The most common source is palm fruits, which are pressed to extract palm oil. In our products, tocotrienol comes from ethically sourced palm and soy.
What does it do?
When applied, Super Vitamin E accumulates on the topmost layer of your skin to create a first line of defense against the free radicals caused by ultraviolet rays and ozone.
What does that mean for you?
For starters, it means healthier, younger skin. Super Vitamin E helps reduce the signs of aging, including fine lines and wrinkles. Because this powerhouse is also able to neutralize free radicals at a fast rate, it's effective at protecting the skin from aging and sun damage. This makes it a powerful ingredient found in our Natural Age Antidote Day Skin Cream.
Ready to tap into the benefits of this superstar ingredient? Wait, we have one more thing that will widen that gorgeous smile of yours a little more. If you sign-up for our EB Newsletter today, we'll give you $10 off. Don't stop there, sign-up for our EB Rewards program to continue earning rewards. So go ahead, register, save, and splurge! Just make sure you snap a picture of your order when it comes in and share it with us on Instagram. We want to see what you got! Remember to tag @eccobellabeauty and use the hashtag #EBSuperVitaminE