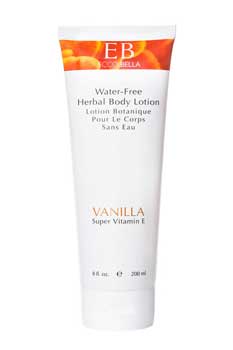 There's plenty to love about cooler, drier weather—the abundance of fruit pies and delicious hot cider, just to name two; but hey, there's something else about cooler, drier weather that we need to look out for. It's the way cool, dry air makes our skin look and feel. The dry heat running indoors and the dry cold outside strip the thin layer of oil from our skin leaving it dehydrated. Next thing you know, you look like the Crypt Keeper. It's time to protect yourself with a lush, water-free, organic, lotion!
Your skin is your body's largest organ, and it's precious. It deserves to be pampered by natural, organic body products, not some el cheapo lotion with an ingredient list you can hardly pronounce. Reach for the bottle of lotion you've been slathering on and let's compare notes.
Is water anywhere on the label? If it's there, odds are it's the first ingredient listed, making it the primary component. Your parched skin doesn't need water rubbed on it any more than an Eskimo needs a bag of ice. Water-based lotions are counterproductive as they evaporate pulling moisture from the skin, further drying it out.
Look for water-free products with the following natural, organic ingredients instead:
Organic aloe has been moisturizing and enhancing skin since the time of Cleopatra. A 3,000-year track record can't be wrong. When used daily, the lush, anti-aging enzymes and saccarides in aloe vera help stimulate cell renewal six to eight times faster than normal. It's rumored to be a wasp-repellant too. If only Cleopatra had kept up with her moisturizing regime!
Organic Sunflower seed oil helps skin retain moisture by creating a protective barrier. It's also rich in Vitamin E, a deft warrior at combating UVA rays.
Organic Coconut oil creates a protective barrier to prevent water from leaving the skin. It'll work with your skin to soften and soothe what the dry air has irritated.
Babassu oil, from the Babassu palm tree, has a fatty, acid-rich composition, making it a skin softening and healing superstar.
Extracts of calendula officinalis (marigold) and chamomile matricaria (chamomile) are two examples of natural, floral extracts that pack a big punch. Both of these extracts are used in natural skin care products for their ability to soothe and heal irritated skin.
With these ingredients your skin will look and feel great. If the product smells intoxicating and sensuous, even better. We suggest you reach for our Water-Free Organic Vanilla Herbal Body Lotion. It's scented with vanilla planifolia extract, which not only smells divine, but also has antioxidant properties as an added bonus.
Between the gorgeous glow your healthy, hydrated skin is giving off, and the hypnotic vanilla scent enveloping you with feel-good vibes, you're going to look fantastic. Let's celebrate! Grab that selfie stick and put on your best pout. Don't forget to tag us on Instagram with @eccobellabeauty and use the hashtag #EBVanillaLotion.
Here's to the best ideas that keep your skin soft, and healthy!