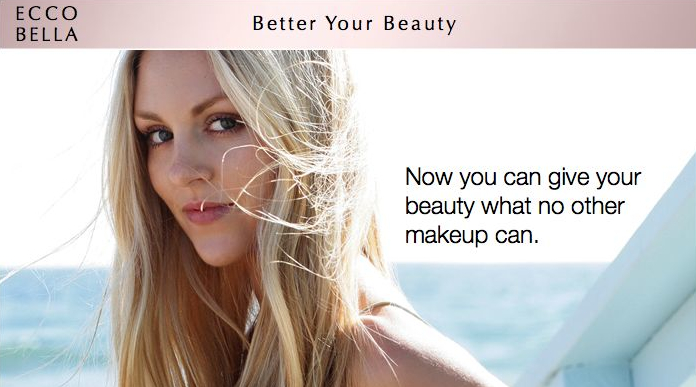 When it comes to multi-purpose, high-performance beauty essentials that are crafted with naturally beneficial ingredients, Ecco Bella keeps the council of our best customers in mind. Our luxurious Vitamin E Lip Smoothers are one of our best sellers, and that's because they are a beauty staple for all seasons. Think of these little gems as a tinted lip balm with a twist. Available in three stunning shades and clear, they aim to suit any mood and every skin tone. But these are not ordinary tinted lip balms.

Why? Well first, Ecco Bella natural make up is infused with the wax coating that protects real flowers from the elements. We wanted to offer our intelligent beauties that same powerfully natural protection, so we've infused Flower Waxes into all of our natural make up.

What else makes our Vitamin E Lip Smoothers so special? The revolutionary core! Made with Vitamin E complex (with the full spectrum of eight tocotrienols and tocopherols), the colorless centre of our Vitamin E Lip Smoothers is bursting with all-natural, soothing moisture packed with anti-aging benefits. This means you'll proudly sport a pucker that is hydrated, smooth, and buttery soft. We've had many reports from very pleased Intelligent Beauties who notice significantly smoother, younger looking lips.

But that's not all! Along with the moisturizing, anti-aging properties of the unique core, the Vitamin E Lip Smoothers boast a beautiful, exclusive formula filled with natural powerhouses like organic jojoba oil and organic calendula oil, both of which are world-renowned for their soothing, healing benefits.

The core is surrounded by stunning, naturally-derived color, free from artificial dyes and other harsh chemicals. Your lips will be kissed with a subtle (but definitely noticeable) pop of color (Sugar Plum is a cool mauve, Rhubarb is an earthy rose and Spice is a warm, spicy brown) and drenched with unstoppable moisture. Of course, if you prefer a clear option, we've got you covered. The Clear Vitamin E Lip Smoother delivers all the incredible benefits without the color.

Say goodbye to cracked, dry, weathered lips and welcome your pout's new best friend. At the heart of our Vitamin E Lip Smoothers is our promise to purvey the perfect balance of beauty and brains. Our Intelligent Beauties expect beauty products that are always gluten-free, vegan, and naturally preserved. They want products that will enhance their natural beauty while offering pure, natural benefits. For Ecco Bella, that's been a no-brainer from the start, and our Vitamin E Lip Smoothers are no exception.

Pretty, youthful looking lips with a subtle sheen and a healthy hue never go out of season, so try our Vitamin E Lip Smoothers today and get ready to fall in love! You'll never want to leave home without it. We know, because we have them stashed in our purses at all times!

What's YOUR Vitamin E Lip Smoother? Let's find out!