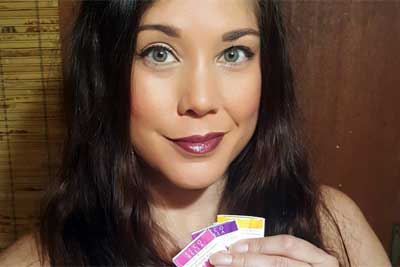 Beauty is personal. There is no one-size-fits-all color palette. The right hues are the ones that speak to you. You don't need a pre-selected combination of colors chosen by someone else. You do need your favorite shades in one easy compact. We get it. That's why we created our Eco Paperback Duo Compact. Our empty compacts allow you to mix and match eye shadows and blush colors to your heart's content. Not sure where to start? Here are some suggestions our Natural Beauty Ambassadors think you'll like.
Feeling Healthy Like @PlanetGlenda
Whether you're prepping for a day on the town, or just feeling bubbly, pairing Clay and Deep Taupe eyeshadows says you're ready for fun! The lighter Clay shadow can be swept across the crease of your eye, while the darker Deep Taupe is layered on the lash line and outer corners. Sizzling! FlowerColor Blush in Purity nicely compliments this combo. For more on how Glenda Pietri uses this trio, check out Get the Look: Healthy.
Fresh! Like @lovelightmommy
If you're looking for a fresh, natural look that draws focus to your eyes, start with our FlowerColor Eyeshadow in Camel and Earth. Pair these with the FlowerColor Blush in Earthy Rose. Begin by washing the Camel shadow over your eyelid from lash line to crease. Smudge Earth on the top and bottom lash line extending out to the outer corners. You'll find the rest of the step-by-step directions here: No Makeup look.
Feeling Bold Like @BeauxBeautyBlog
Some days you want to showcase your lips. Be bold – go for it! Your eyes may not be taking center stage but they still deserve some attention. Consider a sweep of FlowerColor Shimmer Dust in Moon and Powdered Eyeliner in Charcoal. This eye color combo also pairs well with FlowerColor Blush in Burgundy Rose. Looking for more tips on how to make this palette work? Try out Renee's Bold Lip and Liner look.
Of course, these are just a few suggestions. As we said, there's no reason to be tied to someone else's idea of beauty. Add an Eco Paperback Duo Compact to your cart and have fun mixing and matching the shadow, shimmer dust, powder eyeliner, and blush. When you're done with your first picks, replace them with fresh, new colors, and keep the compact until it is ready to be recycled. Have fun and remember to share a picture of your picks with us on Instagram. Use the hashtag #EarthBeauty! Be sure to tag us @eccobellabeauty.