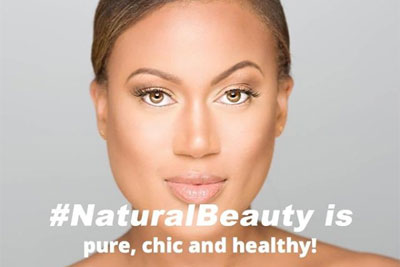 The idea of "beauty" is often diluted by fantasy-fueled, retouched images of models who may smoke, behave dysfunctionally, and wear fur or harm animals. The reality behind a seemingly beautiful face could be an unbeautiful life. Worse, those photos can cause a nagging doubt in consumers' hearts. Am I good enough? Is my life as beautiful as the one in the photo?
In contrast, Ecco Bella honors those who are truly beautiful. That's you, Gorgeous! You are among the most creative, talented, compassionate people on the planet. We love and respect each of you. In your honor, we reclaim the concept of beauty and celebrate natural, intelligent beauty.
Recently we asked you to chime in and share on social media what natural beauty means to you. The response was overwhelming! You've got some fantastic things to say and we love you for it. Here are some of our favorite replies:
"#NaturalBeauty comes from within and is shared freely with love!" ~ Kitty M.
Kitty's got it right. Natural beauty isn't something you can buy or put on. It radiates from within. Even more importantly than that, natural beauty is expressed in the way we love on others. When you treat other humans, animals and the planet with compassion and respect, well, we think that's when you look downright gorgeous.
"#NaturalBeauty is not having to choose between glam and health." ~ Chantel
When you select natural, organic skin care and cosmetics, you don't have to make a choice between looking good and feeling good. Chantel couldn't be more correct. Natural beauty comes from using products that are good for you and good to the planet. That's why our products are safe, made ethically and authentically, and offer superior performance. Each of the active natural ingredients in our products has undergone various clinical trials and studies to validate their benefits. Our formulas honor the most sensitive of Intelligent Beauties who are devoted to this brand.
"#NaturalBeauty is seeing myself through my son's eyes." ~ Paige
It's hard to turn on the television or open a magazine and not be bombarded by what advertisers define as beauty. The images they present are often edited versions of real people that set the bar unrealistically high. We don't believe you need to meet someone else's unattainable standards. As Paige points out, those who love us see our real, natural beauty and we'd all be better off if we focused on that view. Be real. Be compassionate. Love others. Be kind. That's all it takes to be beautiful!
"#NaturalBeauty is to love all with no fear! Be yourself, cruelty free."  ~ Carolina
Carolina nailed it! It's hard to be gorgeous when you're dismissing the lives of other living beings. True beauty requires compassion. If your beauty regime includes products that have been tested on animals, it's time to make a change. Using cruelty-free products makes you downright ravishing!
"#NaturalBeauty is loving yourself as you are." ~ Mariana
"#NaturalBeauty is feeling good about yourself." ~ Linda
"#NaturalBeauty is confidence!" ~ Noelle
Mariana, Linda, and Noelle have a few things in common. For starters, all three were Grand Prize winners in our #NaturalBeauty contest. More importantly, these gorgeous ladies all have the same sage advice. Real beauty is an inside job. Listen, a person could go crazy trying to keep up with all the 'rules' others have set to define what makes us worthy of being called beautiful. Are you fit enough? Are your lips plump enough? Do you have curves in all the right places? Are you tall enough? Is your hair the right color? Forget all that. Real beauty comes from being comfortable in your own skin and loving yourself just as you are. With the confident glow you'll exude, other folks will marvel over the certain je ne sais quoi you've got going on.
Now it's your turn. How do you finish the sentence, "Natural Beauty is …"? Swing by eccobella.com and let us know. Click on "Share Your Story" on the homepage to upload your photo and tell us what's on your mind. You can also post your answer right to Instagram. Just use hashtag #NatualBeauty and don't forget to tag us at @eccobellabeauty.