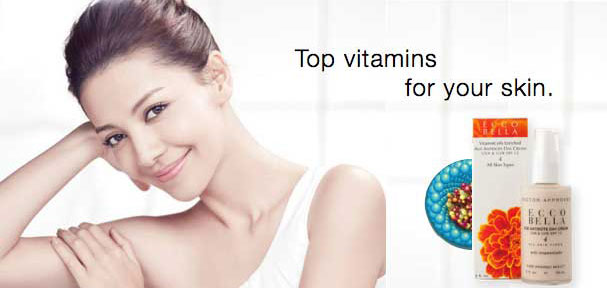 No matter what, you are committed to healthy eating because you love the way your body thrives on vitamins to boost your immune system and create robust, healthy cells making you sleek, strong and positive.
Some of the best vitamins are especially positive for your skin.
As your body's largest organ, your skin hungers for those vitamins and minerals that fend off and even reverse the effects of the daily barrage of stress, sun, environmental aging and blemishes. We have researched and share with you here, the best vitamins for your skin.
Lutein a yellow pigment found in green leafy vegetables and beautiful flowers like the marigold, this vitamin helps protect skin and eyes from the sun's damaging rays which has been proven to cause 75% of the aging of the skin
Lycopene is that deep, beautiful red color in tomatoes. As an antioxidant, it helps prevent the formation of harmful free radicals caused by daily life and by sunburn, which causes wrinkles.
Astaxanthin, derived from sea algae, it is what makes a salmon pink or a lobster red. It is known for its ability to protect your skin from the sun and reduce the signs of aging. We use this vitamin in our natural, organic skin care products to help reduce wrinkles and lighten age spots.
CoQ10, or Coenzyme Q10, is found naturally in the body. In our youth, our bodies produce as much CoQ10 as it needs. As we age, however, those levels begin to drop. CoQ10 is known for its ability to energize and rejuvenate your skin and bring back that youthful glow.
Vitamin C is a skin care must. Derived from fruit, this powerhouse promotes collagen production and protects skin cells. The collagen boost it provides will smooth fine lines and firm skin.
Vitamin E tocopherols and tocotrienols helps your skin retain its own natural moisturizers. It also neutralizes free radicals that cause sagging and wrinkles. Our natural and organic skin care line combines full spectrum vitamin E and tocotrienols. This dynamic pairing is more powerful than d-alpha tocopherols in vitamin E alone.
Some of the best vitamins for your skin are rarely found in natural and organic skin care products, except for the Ecco Bella skin care line enriched with VitaminCells.
VitaminCells are non-gmo soy liposomes used as a carrier to deposit nutrients into the dermis where the mitosis of the skin is taking place. In other words, it helps the skin time-release these vitamins so you get full benefits of the nutrients in a way that's more than just skin deep.
Experience the anti-aging skin care that lets you reset your body clock. We want to see your healthy, youthful glow! Take a photo to share with us on Instagram. Use the hashtag #EBVitaminCells! Be sure to tag us @eccobellabeauty.