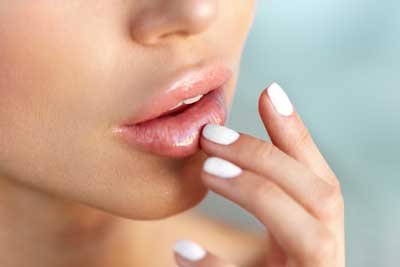 You love lippies. Who doesn't? A pop of pink across our lips or a burst of luscious red can give us an instant makeover. It's not about whether we ought to pucker up and smooth on some color; it's just a question of which one to use. That's where we come in. Next time you're not sure whether to rock some REDvelation or shimmer with a bit of Peace, refer to this handy lip guide for some advice.
It's created with a simple, healthy formula of vegetable waxes, oils, and mineral pigments that go on creamy and won't feather. If you're looking for a lippie with full-coverage and lush pigments, this is it.

Here is a good tip for an everyday look: Select a shade that's close to your natural lip color –don't vary more than two shades darker or lighter. To determine whether that tube you're eyeing makes the cut, apply color to just your bottom lip and compare it to its upper partner. If the hue is dramatically different, try another shade. If you're pale skinned, start with nude-hued lippies that have a hint of pink like our Napa Grape and Peach Frost. Your skin tone leans more yellow, olive, or darker? Start with soft beige toned shades like Café au Lait, Caramel, or Almond.
Bright lip look, test your lips not your skin tone: We've been well trained to look for colors that complement our skin tones when we think color palette. There's still room for that with a bright lip look, but the real test for best color is your natural lip color – not your skin. If you're starting with pale natural lips, try cherry reds and coral tones like Tuscany Rose, Claret Rose, Pink Rose and Mauve Rose. If you're blessed with naturally reddish hued lips, reach for bolder hues of hot pink, orange and cranberry like Pink Rose, Sangria, Tuscany Rose and Claret Rose. Darker lipped-beauties can opt for brick red and burgundy hues like Peach Rose, REDvelation, Primrose, Merlot, and Rosewood.
Get creative: You're an individual and you deserve a signature lippie. Skip the rules and go with the shade that makes you feel like you're ready to take on the world. Not seeing the right hue in a tube? That's ok. Try layering your lipstick. Adding more coats of one shade will deepen the color. Or really shake things up by layering different colors one on top of another. Try a sweep of Napa Grape over Tuscany Rose, for example.
Vitamin E Lip Smoothers pull double duty: treating your lips to a luscious core of vitamin E and tocotrienols, while kissing your lips with a hint of hue. These lippies are inspired by nature, infused with healthy goodness to dramatically eliminate cracks and dryness while smoothing, with a touch of color and shine. They are perfect for everyday wear or for a look that calls for a subtle lip, while the focus goes to your fabulous, well-defined eyes.
Clear and Go-Bare are ideal for the Intelligent Beauty who is looking for a moisturizer and a touch of nude shine. For a slight pink tint, try Petal. Or go bolder with a bit of Rhubarb. Looking for something in a more bronzed hue? Spice is perfect.
There are days when you just want to sparkle and shine! Those are lipgloss days. EB's Good For You Gloss offers a pure, shiny, pigmented lippie that's not greasy or heavy. Not only do all four colors offer their own beautiful, lush hues for your lips, they also become a great second-coat option over your favorite Flower Color lipstick for that customized, signature style we talked about before. The aptly named Pleasure, offers pop of pink that's hard not to love. Peace is a softer, more natural hue that lets you create a nude shiny lip. Try it, you'll love it! Power and Passion offer darker, pigmented shine for those times you want a bolder, glossy look. To make these glosses even more fabulous, they have a unique applicator tube that features the same built-in mirror as our best-selling mascaras, so there's never a time when you can't apply.
Remember, the only real rule to gorgeous lips is this: there are no rules that can't be broken. Use our store locator to find a shop near you that carries EB lippies. Get a good look at your choices and swatch colors with a tester if you can. No store near you? That's okay. We're always ready to talk makeup with an Intelligent Beauty! Drop by our web site to schedule a free natural beauty consultation with one of our gurus!
Now tell us, Intelligent Beauty, what lippie did you pick? What's your signature look? Snap a selfie sporting your favorite EB lipstick, Vitamin E Smoother or Good for You Gloss and share it with us on Instagram. Remember to tag @eccobellabeauty and use the hashtag #EBLippieLove.