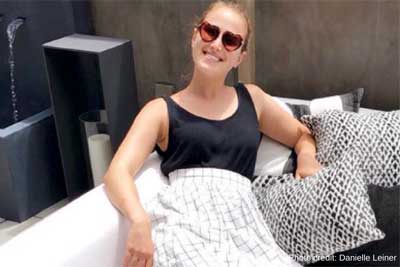 Whether it's the usual suspects on your to-do list or a new set of demands on your time and energy, you're ready for a break. That doesn't mean, of course, that your schedule can afford the down time for a getaway. So, what's a tired, stressed Intelligent Beauty like you to do? Grab a couple of minutes to drench your senses in the sensual, sweet aroma of EB's REVITALIZE Serum.
This precious, skin-rejuvenating formula is perfect on your face, on your hair and scalp, and/or as a fine perfume on your neck and wrist. No matter how you choose to use it, the natural, organic ingredients in this serum will have your inner goddess singing with joy. Here's why:
Jasmine oil
The sweet, romantic, floral fragrance is just the beginning of what makes this oil one of our favorites. Jasmine oil offers an impressive list of benefits including its prowess as an antidepressant as it can stimulate the release of neurotransmitters like serotonin. On the beauty front, jasmine is an excellent antiseptic and disinfectant. It helps diminish scar marks, too. Added bonus: jasmine is a champion at helping soothe you to sleep. Apply EB's REVITALIZE Serum under your night cream to reap those rewards!
Neroli oil
This flower blossom, citrus-derived oil is another mood booster. Your skin is going to love the TLC it gets from neroli oil. This oil has a reputation for combating acne, and for soothing and regenerating skin. It also helps maintain your skin's elasticity which means it can tackle fine lines. Added bonus: while neroli oil is busy pampering your skin, its antibacterial, anti-inflammatory, and antiseptic abilities can also help tone and balance oily skin, too.
Sandalwood oil
Rounding out the trio of essential oils in the REVITALIZE Serum, sandalwood adds a woodsy, sweet scent that's also known for its ability to return a sense of peace and harmony to our lives. Of course, your skin loves it too! This is another oil that offers antiseptic and astringent properties to soothe, tighten, and cleanse skin. Added bonus: sandalwood can also offer mental clarity and a memory boost. Got a test at school or a big meeting on the agenda? Dab a little REVITALIZE Serum on your neck and wrist before you run out the door.
Jojoba oil
We'd be remiss if we didn't take a moment to talk about why jojoba oil is an Intelligent Beauty favorite! It's the closest thing to liquid gold that we have found. Products that contain pure jojoba, like our Organic REVITALIZE Serum, entice your skin to drink up all the luxurious benefits it offers to rejuvenate and reinvigorate! What benefits, you ask? There are so many, we wrote a whole blog post just on this one precious substance. Read all about the benefits of jojoba oil here: REVITALIZE Your Skin and Hair with a Centuries Old Beauty Secret.
We'll bet those stress levels are coming down just reading about these amazing oils. Now imagine how much better you'll feel (not to mention how clean and clear your glowing skin will be!) when you use the product! Go ahead and give it a try. Don't forget to snap a pic of your smiling, revitalized self and share it with us. Tag us on Instagram with @eccobellabeauty and use the hashtag #EBREVITALIZE.