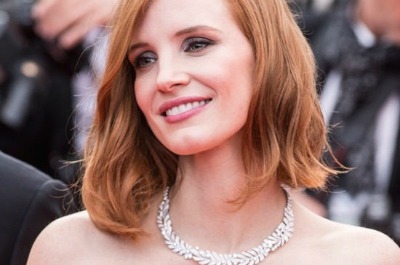 For nearly two weeks in May, all eyes are on the Cannes Film Festival. More specifically, all eyes are on Cannes' red carpet - and who can blame us? We may not have an occasion to strut our stuff in one of those gorgeous gowns, but we can all find a reason to glam it up with movie star hair and makeup. This year, actress (and vegan!) Jessica Chastain caught our attention with her smoldering smoky eye and pink stained lip. Get the look in 3 simple steps.
Step 1 Skin To recreate this sexy look start with a lightweight, natural-looking foundation that provides full, flawless coverage like our FlowerColor Liquid Foundation. Don't forget to dab a bit on your eye lids and blend it gently across the lid to create a stay-put base for your eye shadow.
Step 2 Eyes (+ Cheeks) Jessica's smoky lids pop thanks to a soft, rose-hued highlight from crease to brow. We suggest putting our FlowerColor Shimmer Dust in Star to work for you; use a blending brush to apply it. But don't put that powder away just yet! Grab a big fluffy, round brush and sweep a bit of it across your cheekbones for a radiant glow with a minimal amount of color. Two products in and you're already a dazzling diva!
In Cannes, Jessica rocked a classic grey smoky eye. Reach for FlowerColor Eye Shadow in Galaxy. If you want to amp up the drama, try our Flower Color Powder Eyeliner in Charcoal. For an extra-striking look, use both. Sweep Galaxy across your lid and blend in the darker hued Charcoal closer to your lash line. You can use the powder eyeliner wet or dry to create a more defined line or a softer look. Before you move on from those beautiful eyes, apply FlowerColor Natural Mascara in black to your lashes.
Step 3 Lips Bold, dramatic eyes don't need to compete with spotlight-grabbing lips. Jessica's lips are stained a soft, berry-pink hue. You can give yourself a similarly perfect pout with FlowerColor Lipstick in Mauve Rose. Added bonus: this lipstick thinks it's a lip balm. You'll get gorgeous rich color that will moisturize without flaking or chapping.
You look marvelous! Now grab your favorite, confidence-boosting outfit and turn some heads! But before you head out for a good time, snap a selfie for us. We want to see your sexy, red-carpet worthy look. Don't forget to tag us on Instagram with @eccobellabeauty and use the hashtag #EBRedCarpet.