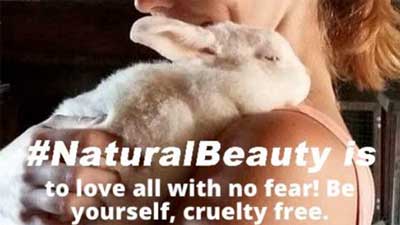 There's more to cosmetics than meets the eye, not every tube of lipstick, powder compact, or bottle of perfume is created equally. Living a cruelty-free lifestyle involves more than just what you eat; everything you use on your body matters as much as what you put in it.
Ingredients Matter
Many of the chemical components found in common beauty and skincare products are toxic—gross! These ingredients are unhealthy for us, our animal friends, and for the planet.
For example, two ingredients commonly found in cosmetics, Triclosan used in anti-bacterial soap and Dibutyl phthalate, used in fragrances and lotions are known to be toxic to aquatic life. They can change animals' body chemistry and prevent them from reproducing. It's a cycle of destruction that affects all living beings; plants, animal, and humans.
Another concern is product packaging, which often ends up as pollution. Pollution contributes to the destruction of wildlife habitats and is ingested by animals who can't differentiate it from their normal food sources.
Compassionate Beauty
Ecco Bella's products use only natural ingredients, never any harsh chemicals or animal byproducts. Our cosmetics won't harm your skin or the environment. By infusing products with real vitamins and ingredients from nature, Ecco Bella is equipping you beauty-lovers with the best tools possible to make your true, beautiful selves shine. We use pigments from fruits and vegetables to enrich our skin care and we use mineral pigments to add color to our products, but our favorite is our Flower Cutins that come from flower petals that protect the skin and maintain your own natural moisture.
We strive to use eco-friendly packaging, such as our refillable paperback compacts. Because they're refillable, EB compacts can be used over and over again. And, since they're made of compressed paper, they can easily be recycled after years of daily use.
Once you peer past the surface of many cosmetic brands, it's not very hard to see how the products made with compassion are also the ones doing the best work for you. The next time you head to the store to shop for some new beauty products, remember: compassion is the most natural form of beauty there is!
Ready to infuse your beauty regimen with more compassion to help the planet? We want to make it even easier for you to get started. If you sign up for our EB Newsletter today, we'll give you 15% off. Don't stop there! Sign up for our EB Rewards program to continue earning rewards.
So, go ahead: register, save, and splurge! Just make sure you snap a picture of your order when it comes in and share it with us on Instagram. We want to see what you got! Remember to tag @eccobellabeauty and use the hashtag #IntelligentBeauty.