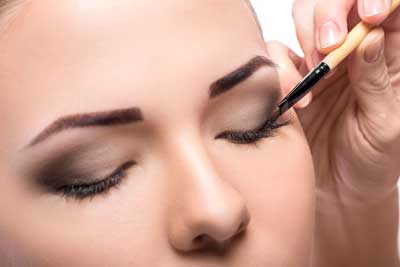 If there's one look that implies sophistication, it is the sexy, smoldering eye. Maybe you've already perfected this modern classic, or maybe you need a few tips to master it. Either way, we bet you're going to love the quick and simple twists we've got up our cruelty-free sleeves to take simple smoke all the way up to sensation!
The Basics
Let's make sure we're all on the same page. The smoky eye is about creating drama with the application of dark eyeshadow on the eyelids and dark eyeliner smudged along the upper and lower lash lines. There's no color requirement here. You can go with the expected gray hues (because it's smoke after all) or you can add your own Intelligent Beauty take on it by creating a signature look with your preferred color family.
No matter what smoky variant you select there are some great tips below:
Keep the powder put by applying FlowerColor Cover Up and FlowerColor Natural Liquid Foundation to your eyelid and beneath your eye.
You're working within a color family. This isn't mix and match separates. This is about building within a connected color palette. Pick one of the variants listed below and own it!
For each look, start by blending a dark shadow across your lid (from lashes to crease of your eye). Use an angled brush to apply the same shadow along your lower lash line too.
Smoky eyes are about gentle blurred, soft smudgy beauty. No harsh lines allowed! Use a cotton swab or smudge brush to lightly smudge your chosen shadow at the edges.
Rub a coordinating eye liner across the top and bottom lash line. Just make sure you smudge this one up, too.
Add a bit of pop to help open your eye by adding a bit of Shimmer Dust or lighter-hued eyeshadow along your brow bone.
Flirty lashes are a must when it comes to smoky eyes. Don't forget to sweep FlowerColor Mascara across yours to finish off the look!
Now for a few twists:
Traditional Earthy Smoke
Reach for your FlowerColor Eyeshadow in Deep Taupe for your lids and lower lash line. Fade that darker hue into light by blending Clay eyeshadow from the crease up and finishing off the eye with a touch of Heather eyeshadow at the brow bone. Complete the look with a sweep of our Soft Eyeliner Pencil in Seal.
Bronzed-Eyed Beauty
FlowerColor Powder Eyeliner in Brown is the made for this bronze-age twist on smoke. Apply it across your lid to the crease. Blend in a bit of Peach Rose or Camel hued eyeshadow at and just above the crease. Sweep a touch of Moon Shimmer Dust along the brow line. Complete the look with Soft Eyeliner Pencil in Bronze.
A Bit of Spark with Your Smoke
Red eyeshadow is trending, and it's found its way to the smoky eye, too. Use a rich brown-tone eye shadow like Earth or Deep Taupe to create a traditional smoky eye. Now reach for your brush and blend your favorite red hue blush over and a bit above the brown. Sexy, right? Alternatively, try brushing your blush on the inside half of your eye lid. Blend out the color by brushing Charcoal Powdered Eyeliner from the center to the outer edge of your eye for a more modern take on things. (For more red eyeliner twists, check out our blog article on the trend: Trend Alert: Getting Red Eye Shadow Right.)

Jewel-Toned Smoke
If you really want to kick things up a notch, ditch the browns and grays in favor of bright, jewel-inspired hues like EB's Mystic FlowerColor Powder Eyeliner. Trust us on this one. This rich, blue-hued smoky eye is going to set you apart from the crowd! Start by applying the powder dry all over your eye to the crease. Smudge a bit of it under the eye as well. With a wet cotton swab or liner brush, apply a bit more of the Powdered Eyeliner along the upper lid to deepen the shade. Set things off with a brush of Star Shimmer Dust at the brown bone to crease. Sizzling!

That's it, Gorgeous. You are now ready to conquer the smoky eye with a few customized twists to make it your own. Let us know which variant you like best. Better yet, take one of these looks for a test drive. Just don't forget to snap a selfie and share it with us on Instagram. Use the hashtag #EBSmokyEye! Be sure to tag us @eccobellabeauty.