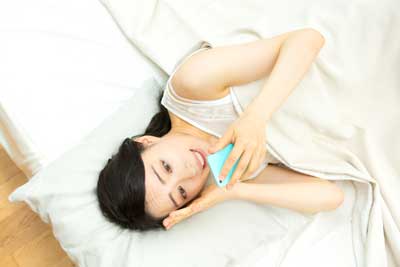 We've all been there. The alarm didn't go off. Or it did, and you smacked the snooze bar. Three times. Well, now you're up, but you're far from bright-eyed and bushy tailed. And you're running late. You're going to have to toss the hair up, splash some water on your face and hope for the best. Right?
Wrong.
Give us five minutes and we'll give you a make-up routine that even the most hurried amongst us can pull off.
Step 1 – Grab a foundation that does double, or better yet, triple duty. Multitasking products save you time (not to mention money!). Cover yourself with treatment, sunscreen and foundation all at once by applying your FlowerColor Foundation. If you think you need it, apply a bit of concealer and blend it in. You look smashing already and we bet it's taken you less than a minute to get this far! Got a few seconds to spare? You can set your base with a little swipe of FlowerColor face powder.
Step 2 – Nothing says healthy and awake like a fresh, rosy cheek. In 30-seconds or less brush FlowerColor blush onto the apples of your cheeks. That little bit of color flushing your cheekbones will make you look pulled together.
Step 3 – A coating of mascara on your upper lashes will make those eyes pop. If you've really pushed the clock to the limit, mascara alone can be a big punch of magic on the end of a small wand. Got a bit more time? You could grab your favorite pencil, although powder eyeliner will give you more flexibility. If you dampen the brush and glide it across the powder palette, you can create as defined, intense a line as you wish in one easy brush stroke. Or, go crazy and give it a try without wetting the brush to use it like you would your regular shadow. (Or do both!) Go ahead and admire your gorgeous self for a moment. You've saved yourself enough time so far to do it.
Step 4 – There's no excuse for ignoring your lips. Even if you're really crunched for time, you can pucker up and coat your kisser with your favorite lipstick or gloss as you're grabbing your keys and stepping out the door. With the beauty of your simple eyes, a bold, beautiful lip can be the star! In less than a minute you can line and coat your lips in a rich, gorgeous hue.
Step back and appreciate. You look fabulous and you've got the seconds left on the clock to enjoy it. Snap a selfie and share it with us. Don't forget to tag us on Instagram with @eccobellabeauty and use the hashtag #EBFastandFab