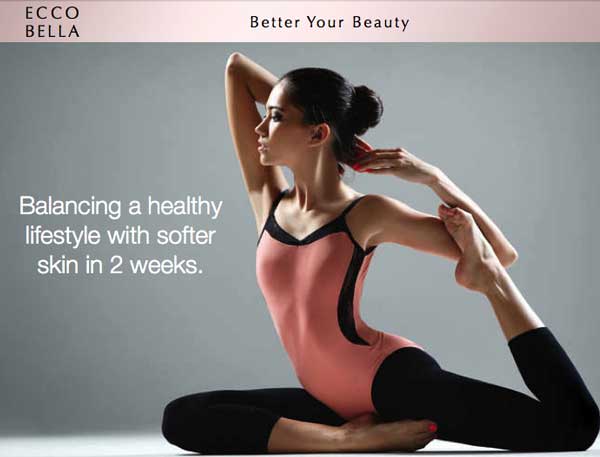 If your skin care routine does not include exfoliation, you're missing out on important benefits!
Our bodies continually produce new skin cells to replace those that naturally die off. But this process slows down and dead cells begin to layer, leaving skin dull and dry. The build-up can also clog pores, which leads to blemishes and acne. Exfoliation removes these dead cells and dirt from the skin's surface. The result is a clean, fresh, more youthful complexion and a fast way to rid yourself of blemishes.
Be kind to your skin. Select a natural, organic, effective product such as our Leave On Invisible Exfoliant enriched with VitaminCells, which exfoliates and nourishes.
Like the Intelligent Beauties who use it, you will realize its amazing benefits almost immediately. The exfoliant packs a lot of power into its gentle formula, and can be incorporated into your nightly routine.
After washing your face in the evening, gently apply the Leave On Invisible Exfoliant and Blemish Remedy. Then, simply leave it on, just as the name suggests. As you sleep, the exfoliant dissolves the dead skin cells collecting on the top layer of skin and hydrates the healthy, younger living cells. In the morning, rinse your face to remove the exfoliant. Not only will you sport a healthy glow, you'll also notice that those fine lines have diminished.
Dead cells need a little nudge on more than just your face. Apply the Leave On Invisible Exfoliant to common rough spots, such as your elbows, feet and knees. The process is the same. Use the product at night. Sleep. Rinse it off in the morning.
The Leave On Invisible Exfoliant is also adept at making blemishes disappear in 24-48 hours. Grab a cotton swab or use your finger for spot treatments. Dab some of the product directly on blemishes. Again, leave it on overnight and rinse it off in the morning where it can be reapplied. This formula goes deep into pores to smooth skin and safely dry up blemishes.
Your skin wants this! After you incorporate the Leave On Invisible Exfoliant into your routine, take a photo of your bright, youthful self to share with us on Instagram. Use the hashtag #EBExfoliate! And be sure to tag us @eccobellabeauty.