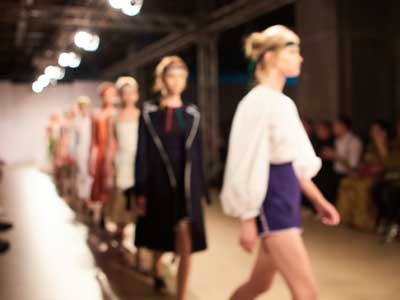 It's green and it's hardly a surprise since it's also the Pantone's color of the year. Spotted on the runways of Victoria Beckham, Versus Versace and Jill Stuart . Pantone selected one of the Earth's most refreshing, life-affirming and abundant hues, Greenery, as its Color of the Year. Green is nature's neutral and it's the perfect hue to update your look.
All the green you need
Before you go stocking up on every verdant powder, pencil, and liquid liner you can find, listen up. You only need one product to unleash your Green Goddess. The multi-tasking FlowerColor Powder Eyeliner in Ivy is versatile enough to create all the looks you need.
Ivy-smoked eye
Give the traditional smoke-hued powders a rest and break out the Ivy! Brush the Powder Eyeliner across your lids from lash to crease. Go ahead and nudge a little color out past the natural edge of your eye too. Experiment with using the Powder Eyeliner dry and wet to create your own amount of luscious smoky drama. You can use a cotton swab to smudge the color into your lashes if your color needs to be softened up a bit. Don't forget to glide some Ivy along the lower lash line as well.
Wing It
No need to shelf the winged-eye when you can green things up. Dampen an eyeliner brush and dip into the Ivy powder to create a pop of green just along the inner corner of each eye. Finish off your cat-eye with your trusty Velvet Soft Eyeliner Pencil.
Leaf-hued Lashes
Turn heads with a peek of green along the tips of your eyelashes. You want your lashes to draw the attention, so start this look with a neutral palette on your lids: soft tones like Fawn and Khaki FlowerColor Eyeshadow are a perfect fit, especially when paired with a Seal or Bronze Soft Eyeliner Pencil. Now's the fun part. Sweep on a coat of FlowerColor mascara and before it sets completely, sweep a brush full of Ivy powder just along the tips of your lashes.
Peek-a-boo Green
For a subtle hint of green, pair Ivy Powder Eyeliner (dry) with earthy-toned eyeshadows. Use a lighter shade shadow along from the crease of the eye to the brow. Sweep a darker hue across the lid. Then tuck a pop of green along the crease itself.
Go Green
Of course, there's nothing wrong with embracing the trend fully and going full-on green diva! Sweep Ivy Powder Eyeliner across your lid and own it. Celestial FlowerColor Eyeshadow works as a sunny accent hue. Try using the yellow shadow in the inside corner of your lid and a touch of Vanilla FlowerColor Eyeshadow just under the brow bone. Talk about sexy!
Those green-hugged eyes of yours are sensational! Before you head out on the town to turn some heads, snap a selfie and share it with us on Instagram. Use the hashtag #EBGreen! Be sure to tag us @eccobellabeauty.