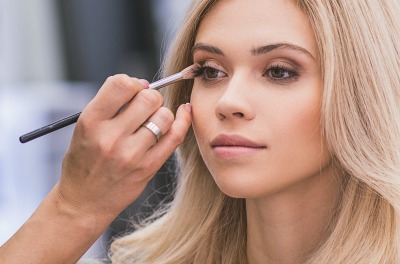 This Gorgeous Look Should Be Your New Normal
When was the last time you shook things up and tried a different makeup look? We all have our go-to look. We all fall into the comfortable routine of grabbing the same palette of organic makeup for what's become our own signature look. Now is the perfect time to try a new look. We've got an engaging look that you're going to want to try. Create an irresistible new look in seven simple steps.
Step 1 – It starts with your FlowerColor foundation. Our beautiful model in this picture is wearing Tan foundation. We suggest using a shade that most closely matches your complexion. An added bonus in your beauty routine in one step: It's a treatment, sunscreen, and foundation all in one bottle. Awesome.
Step 2 – It's time to get your glow on! Open up the Hibiscus Bronzer and apply a bit of sunshine to your face without the damaging effects of the sun's rays. You're feeling all lit up already!
Step 3 – Do you know what conveys energized, healthy, and a bit flirty? A slightly flushed cheek. For this flawless look, go with the Peach Rose Blush. Not only will our FlowerColor formula glide on with silky smooth ease, this shade is also vegan.
Step 4 – Your lips need a little peace and love, too. Grab a tube of Peace Good for You Gloss. Start by applying the color to your cupid's bow (aka, the center of your upper lip) and work your way out to each edge. Don't forget to blot your lips and then reapply more color. Now you can drop that gloss in your handbag or pocket. The small mirror on the package will be handy later if you want to reapply.
Step 5 –It's time to apply Sun Shimmer Dust to your eyes, just below the brow bone. This bit of shimmer nicely compliments the Deep Taupe FlowerColor eyeshadow you'll be applying across each lid. Trust us, all eyes will be on yours by the time you're done with this step!
Step 6 – Let's line those beautiful peepers of yours! For this look, we like using a combination of Brown Powdered Eyeliner and Velvet Eye Pencil. Go ahead and have a little fun. Experiment with applying the powdered liner with a wet applicator or a dry one. Work a little across both the upper and lower lashes. Do what works for you to make this look your own. Both of these products will glide on smoothly without tugging the skin around your eye giving you the control to create your own engaging look.
Step 7 – We suggest adding our Black Mascara. (Hint: If you order it bundled with the Friends of Animals / Primarily Primates membership option, you'll be showing off your stunning inner beauty as well as your outer good looks.) A quick swipe of this natural formula will give you a complete stunning, flirtatious lash look. We're talking voluminous, extended and full lash fringe. Sweet!
It's time to step back and get a good look at your amazing self. Simply gorgeous! Go ahead and dazzle the world with this look for a bit. We'll share another hot look created with natural, organic makeup products next month. If you can't wait to see what we have in store, grab a sneak peek in our EB Look Book.
Before you do that, however, let us know what you think of this look. Our Natural Beauty Gurus would love to see a photo of you sporting this awesome, engaging style. Snap a selfie and share it with us! Don't forget to tag us on Instagram with @eccobellabeauty and use the hashtag #EBFlawless.