The Ethics of Palm Oil in Beauty Products
A growing number of cosmetic and skincare companies are embracing vegan and cruelty-free products. They are consistently producing vegan beauty products made without animal ingredients and without any animal testing. But that does not necessarily guarantee that these products are produced ethically.
The Problems with Using Palm Oil
The use of palm oil highlights this dilemma. Although palm oil, extracted from the palm oil fruit, is vegan, it has become controversial over the past few years for ethical reasons. First, palm oil has caused the deforestation of the rainforest. Second, there are legitimate concerns about the exploitation of workers in the palm oil industry.
Palm Oil and Deforestation
As consumers become more conscious of the ingredients in their vegan beauty products, the demand for natural ingredients is growing. According to CBI, palm oil is the most widely used oil in the world. An estimated 50% of all products on supermarket shelves contain palm oil, palm kernel oil, or one of its many derivatives. However, forward-thinking beauty companies are turning away from the use of palm oil in their products.
The palm oil industry is closely linked to the deforestation in Southeast Asia. The high demand by companies for palm oil has led to the ecological destruction of rainforests. As awareness grows, consumers are seeking ethical beauty products that are palm oil-free, forcing companies to find viable natural substitutes for use in vegan makeup, skin care, and hair care products.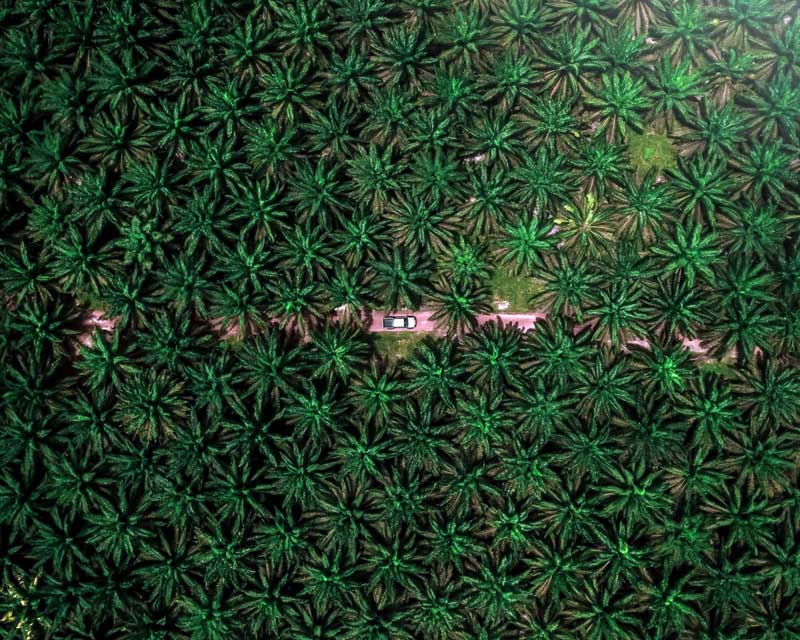 Ethical Alternatives to Palm Oil:
Shea Butter
Mango Butter
Babassu Oil
Coconut Oil
Palm Oil and Worker Exploitation
Another reason why companies are shunning the use of palm oil is the troubling reports of worker exploitation. An AP News report found that palm oil industry workers in Malaysia and Indonesia are subject to abuse and exploitation including child labor, slavery, intimidation, and allegations of rape. Of the more than 130 workers interviewed, almost all reported some sort of abuse.
Palm oil-producing plantations have widely denounced the industry's history of worker exploitation and stressed that they do not condone unethical behavior. However, big beauty companies rely largely on third-party buyers, and often do not know exactly from where their palm oil has been harvested. This makes it nearly impossible to guarantee the fair treatment of palm oil workers. The only true solution is to avoid the use of palm oil completely.
Ecco Bella: Making a Difference
At Ecco Bella, one of our guiding principles is compassion. We protect our earth and its inhabitants. Our products are produced with the utmost respect for nature and our fellow human beings. We have taken a stand against using palm oil in our products and are committed to being faithful stewards of the ecosystem. We use a tiny amount for our vitamin E and it is certified sustainable from small growers.
Ecco Bella's Ethical Beauty Products
Ecco Bella uses only ethically sourced, naturally derived ingredients. Through clinical trials and studies, we have proven the efficacy of our products without the need for palm oil - or any other ingredient that hurts the earth or any living being. Our vegan beauty products will change your skin - guaranteed.